Bola Ahmed Tinubu, the President-elect of Nigeria, and his wife, Oluremi, have donated over 100,000 packs of a variety of food items to Muslims and Christians in Abuja.
They were represented by the National Women Leader of the All Progressives Congress (APC), Dr Betta Edu.
At the start of the donation at the National Mosque, Abuja, Edu said that the gifts were made for both the Easter celebration and the Ramadan fast for both Christians and Muslims. She said the gesture was reflects their love for Nigerians and thus, urged all to pray for peace, unity, love and security to thrive in the country.
"The President-elect and his wife actually asked us to be here to distribute combo packs to Muslim faithful during this period of Ramadan which of course is a period of giving and love.
"We will also reach out to the Christians faithful. Different churches within the FCT and its environs will be receiving this combo packs in the spirit of Easter celebration.
"Let us pursue peace, Nigeria belongs to all of us and everyone has a role to play in nation's building.
"Let us come together as one nation under God to ensure that we see the development that we wish for our children by working together to achieve the sets objectives," she said.
Edu also admonished Nigerians to support the President-elect and his Deputy, believing that they would make a difference in the country.
At the Wuse Zone 3 Mosque, the Federal Commissioner of Refugees, Migrants and Internally Displaced Persons, Imaan Suleiman-Ibrahim, said that Nigerians had toiled to make sure that a worthy leader comes off as president of the country.
"In the last few months, we worked together so hard to ensure that we actualise the Nigerians dream.
"It is important for us to come together now to pray pto achieve the Nigeria of our dreams and I believed that Tinubu's government is going to be for everybody.
"We will be distributing over 100,000 of this max combo pack in the Mosques and churches.
"They actually contain different food items to Christians for the Easter celebration and to Muslims during the Ramadan fast," she said.
Responding, Salihu Bala, the Director, Muslim Community Center, Abuja, appreciated the Tinubu and his wife for their generosity, wishing them and their family Allah's blessings.
He assured the donated items would be distributed to the needy in the Mosque as intended.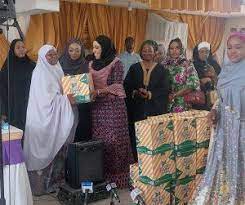 He also prayed for a peaceful hand over of government administration to Tinubu in May 29 and a successful tenure.
Copies of the holy Qur'an were given to the President-elect by Bala on behalf of the Mosque and received by Suleiman-Ibrahim.