President of the United States, Donald Trump on Wednesday threatened to regulate or shut down social media companies after Twitter added fact-checkers to his tweets.
It all started on Tuesday when Trump took to his Favourite social media platform, Twitter to claim that voting by mail or mail-in ballots would lead to "substantial fraud".
The tweets read in part: " There is NO WAY (ZERO!) that Mail-In Ballots will be anything less than substantially fraudulent. Mailboxes will be robbed, ballots will be forged & even illegally printed out and fraudulently signed."
To that, Twitter added fact-checkers as seen in the post below, signalling a warning that the president's comment is misleading.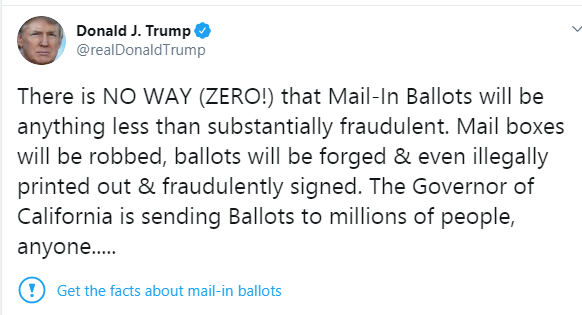 This prompted readers to fact-check Trump's claims.
In reaction, Trump accused Twitter of interfering in the 2020 election that is scheduled to take place on November 3. He also lashed out at them for "completely stifling free speech", saying he would never let that happen as president.
"@Twitter is now interfering in the 2020 Presidential Election.
"They are saying my statement on Mail-In Ballots, which will lead to massive corruption and fraud, is incorrect, based on fact-checking by Fake News CNN and the Amazon Washington Post.

"Twitter is completely stifling FREE SPEECH, and I, as President, will not allow it to happen!" he tweeted in response.
Taking to Twitter again on Wednesday, Trump, without offering any evidence for his earlier claims, reiterated his accusations of political bias by such technology platforms.
According to him, "Republicans feel that Social Media Platforms totally silence conservatives voices. We will strongly regulate, or close them down, before we can ever allow this to happen."

He added: "Clean up your act, NOW!!!!"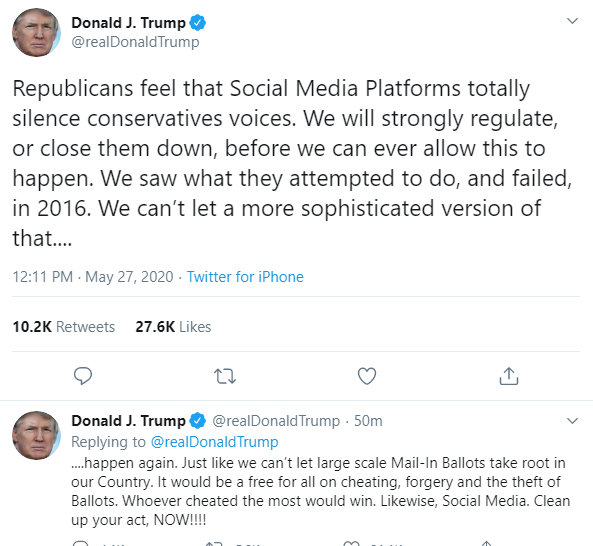 Partner with Expressiveinfo, let's help your business/brand reach a wider audience.
Advertise with us today!
Call 08039323645, 08071610134