The move by the All Progressives Grand Alliance (APGA) to sack six Imo Lawmakers over defection has taken one more step.
When the matter in suit no FHC/OW/SC/27 was called up today, 15th June 2022, at the Federal High Court sitting in Owerri, the presiding judge, Justice Bello, wanted to know whether the six Lawmakers actually defected to another party after winning elections on the tickets of APGA.
Consequently, the motion on stay of execution was struct out to enable the honourable court hear the substantive suit.
The judge thereafter adjourned the case to Thursday 14th July 2022 to continue hearing the suit between the leadership of All Progressives Grant Alliance, APGA and six Lawmakers who won their elections on the platform of the party.
Both the Chief legal officer representing INEC, Mrs Onyemalukwe, the lawyer representing APGA, Mr C.I. Asika Ilobi and the lawyers representing the accused persons all agreed on the adjourned date.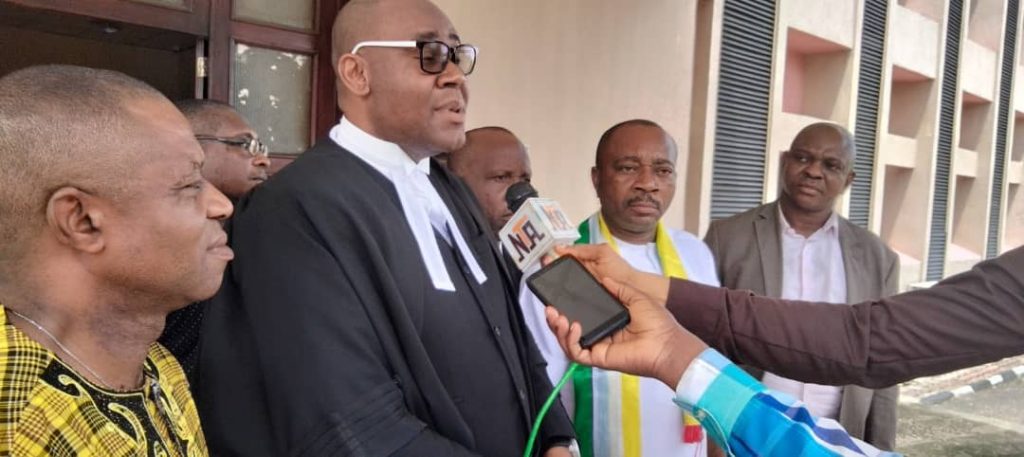 Speaking to the press at the court premises after the matter was adjourned, Barr Asika Ilobi said they wanted to determine whether the accused lawmakers have right to defect to another party having won on the platform of different party.
The APGA lawyer said that the outcome of the legal fireworks will deepen democracy in the country and will go a long way to shapen the electoral process in Nigeria.
Also addressing newsmen at the court premises, the state Chairman of APGA, Hon John Iwuala cited the case ruled by supreme court of Nigeria between Rotimi Amaechi and PDP where the apex court ruled that it's the party rather than individuals that win elections in Nigeria.
He opined that apart from the affected Lawmakers
forfeiting their seats as legislatures, they should also
refund every salary and entitlement they have so far collected as members of the State House of Assembly.
The affected Lawmakers are the former speakers, Dr Chiji Collins and Hon Paul Emezie representing Isiala Mbano and Onuimo respectively.
Others include Amara Iwuanyanwu (Nwangele) andmembers representing Orsu, Okigwe and Ihitte Uboma.
The state Secretary of the party, Pastor Alphonsus Eberendu, the Owerri zonal Chairman, Mr Cosmos Unakalamba, the Owerri zonal woman leader, Lady Grace Ugo, Engr Udensi and Hon Emeka Nkwoada, the state Publicity Secretaries were also on sight in the court.