Governor Hope Uzodinma has been accused of endangering the lives of Imo citizens and hiding alleged coronavirus patients and many other suspected cases in the state.
Investigative Journalist, Kemi Olunloyo, while calling for the resignation of the governor and that of Dr Chikwe Ihekweazu, Director of Nigeria Centre for Disease Control (NCDC), alleged that the two men conspired to conceal the facts about the death of chief Christogonus Aguwa Osuagwu, owner of Fancy Hotel who was the second coronavirus death Nigeria's Health Minister, Dr Osagie announced in Abuja on Monday, March 30.
Residents of Imo state have been left in fear and confusion over the mysterious death of chief Christogonus Aguwa Osuagwu.
Osuagwu was earlier said to have flown into the country from South Africa via Abuja. He reportedly left Abuja to his hotel in Owerri, and later visited his family at Ahiazu Mbaise LGA, before felt sick and returned to Abuja where he was said to have died on Monday morning, prompting fears that he had died from coronavirus infection.
Although Osuagwu's hotel has been sealed and all those he came in contact with have been quarantined, Kemi Olunloyo claims that the facts about his death have been covered in "a big mess. Lies! fraud and rhetoric".
Kemi claims that a family member of Osuogwu disclosed that he had recently been to Italy, UK and Spain where there is huge record of coronavirus cases.
She went on to allege that Osuogwu felt very ill when he returned and refused to take the Covid-19 test but instead went ahead to his hotel in Owerri before going to his hometown in Ahiazu Mbaise. She further claimed that Osuogwu unknowingly infected his wife, kids and staff which is why all of them have been put on quarantine and the DG of NCDC is helping the state governor to hide what is truly happening with the cases in Imo state.
Read all that Kemi Olunloyo wrote in the tweets below.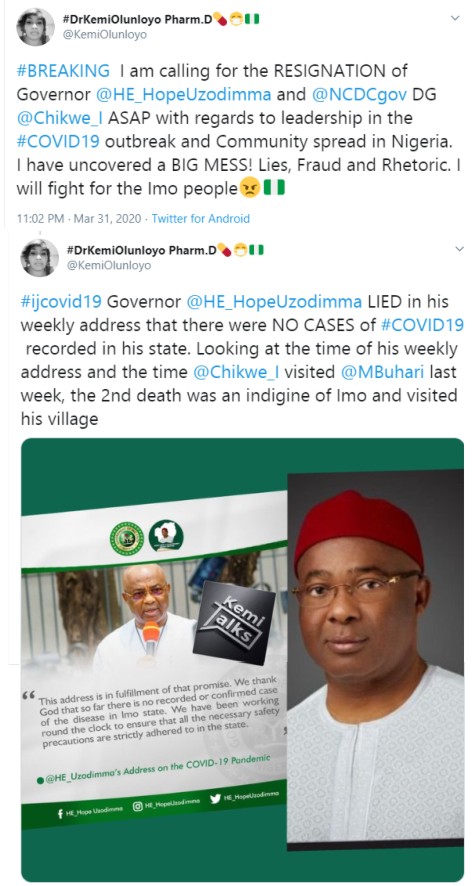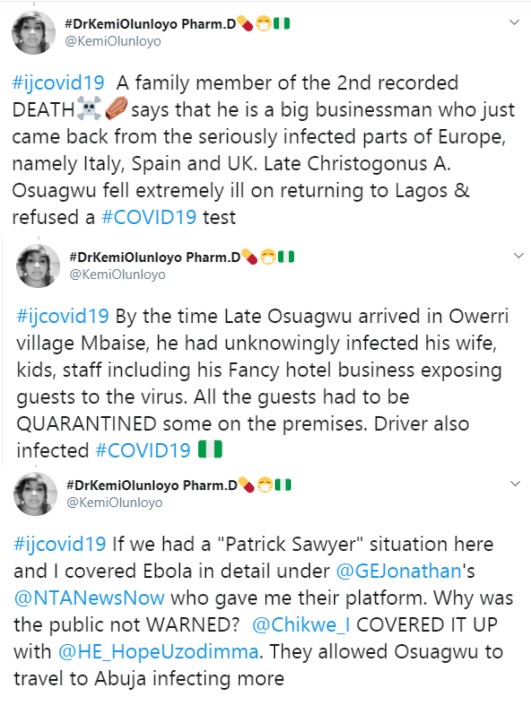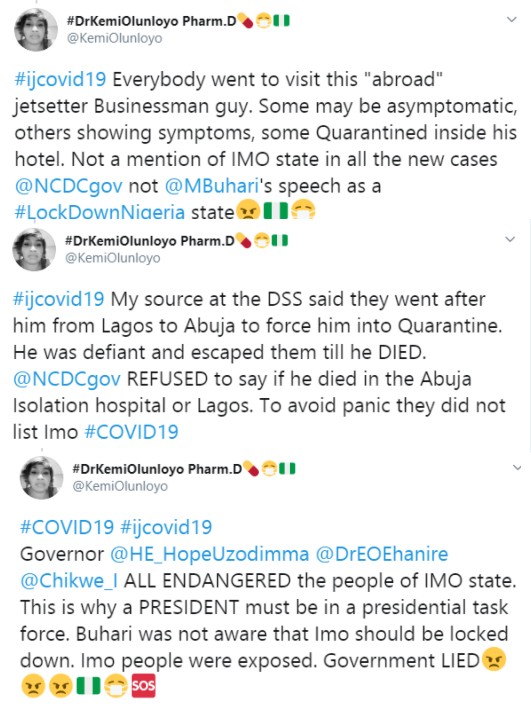 Partner with Expressiveinfo, let's help your business/brand reach a wider audience.
Advertise with us today!
Call 08039323645, 08071610134