German Chancellor Angela Merkel was seen shaking as she met Finland's visiting prime minister on Wednesday – her third shaking within the last month. 
Footage from the event shows Merkel's body shook as she stood outside with Antti Rinne while watching military honours to mark his arrival.
This follows another incident just under two weeks ago, on June 27, when German Chancellor Angela Merkel's office sought to calm nerves after her second bout of uncontrolled trembling in just over a week.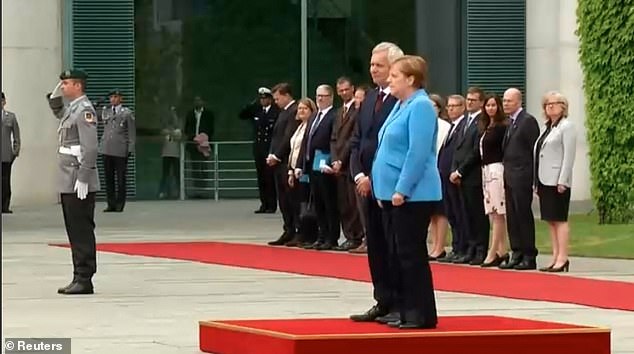 It came just hours before she was due to board the plane to the G20 summit in Japan, sparking new questions about her health.
At the time, a German government spokesman said Merkel would not cancel any upcoming appointments – saying 'The chancellor is well.'
Merkel's spokesman Steffen Seibert later tweeted she was on the way to Osaka for the G20 summit, and that 'numerous bilateral talks with other leaders are planned'.
The 64-year-old Chancellor's arms and body could be seen noticeably trembling as she met Germany's President Frank-Walter Steinmeier.
See the video below. Also swipe to see the previous video of her shaking.