Nigeria's two-term former Minister of Finance, Ngozi Okonjo-Iweala, on Wednesday, shared her vision with the World Trade Organisation members for the post of Director-General.
Following the nomination stage which closed on July 8, the eight candidates vying for the position started presenting themselves to the 164 States that comprise the WTO on Wednesday.
Other candidates aside Okonjo-Iweala are Abdel-Hamid Mamdouh (Egypt), Amina Mohamed (Kenya), Jesús Kuri (Mexico), Tudor Ulianovschi (Moldova), Yoo Myung-hee (Korea), Mohammad Al-Tuwaijri (Saudi Arabia), and Liam Fox (UK).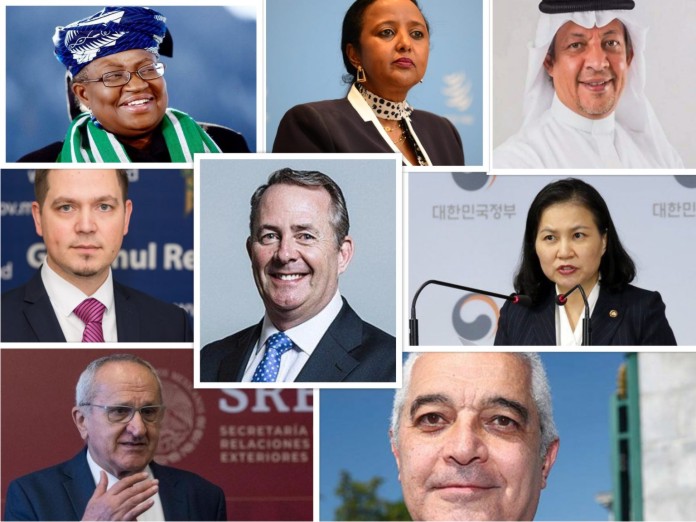 Speaking at the meeting in Geneva, Switzerland, on Wednesday, the former World Bank director said she has all it takes to become the first African and first female DG of the global trade force established in 1995.
She said, "I think it is an honour to have three qualified candidates from my continent and we should not necessarily see it as a bad thing.
"I have total respect for my competitors from all continents for the job of WTO and I believe that WTO members should select on merit. Of course, I would love if that came from Africa because Africa has never had a turn. I would love if it is a woman because a woman has not had a turn and I would love if it were me because I think I'm qualified to lead and I have all the attributes.
"WTO needs leadership and it needs someone able to bring a bundle of qualities – political ability and ability to reach decision-makers. International contacts, I have that. Managerial capability from my long years in a multilateral organisation like the World Bank. The ability to forge consensus, to negotiate, a reformer. I have an established reputation as a strong reformer both at the World Bank and also in my country. I've even written a book about it.
"So, I think together I bring a bundle of qualities – public sector, private sector – because you need to know how do businesses see the WTO and what needs to be done. What about micro-medium and small enterprises? Just to find out what it means to be a small-medium enterprise owner, I started one myself in Nigeria to see what are the obstacles in the way that you need to clear out.
"So, I'm a doer. I'm solution-oriented and pragmatic. I bring together the bundle of qualities and the leadership acumen that you need to lead this. So, I would hope that if selected from the African continent, it should be me."
Responding to a question about her being from the financial sector and not a trade expert, the former finance minister said, "That's a totally wrong notion. I've paid respect to my competitors because that's my nature. I don't criticise other people, I respect them. Competitors who have been saying that she is not a trade expert are wrong.
"I'm a Development Economist and you cannot do that without looking at trade. Trade is an essential part of Development Economics, so I have been doing it. In my whole years at the World Bank, I worked on Trade Policy Reforms in middle and low-income countries at the bank. As finance minister, Customs Service in my country reported to me and that is all about trade facilitation. I helped my country's negotiation with my Trade Minister on the ECOWAS Common External Tariffs. I don't know how much more trade you can have more than that.
"So, those who say I don't have trade experience are mistaken. I think the qualities I have are even better because I combine Development Economics with trade knowledge along with Finance. And you need those combination of skills to lead the WTO. So, I think I have the skills that are needed. This is a familiar territory to me not an alien one; I'm a trade person."
Watch the video from the event below.
Partner with Expressiveinfo, let's help your business/brand reach a wider audience.
Advertise with us today!
Call 08039323645, 08071610134