Singer May D has also come out to tell everyone what he went through while he was with the defunct PSquare music group.
This comes after Singer Cynthia Morgan who revealed how her former label own by Music executive, Jude Okoye, took away everything associated with her music career, including her name.
Recall that PSquare was made up of the famous twin singers, Peter and Paul Okoye, managed by their elder brother, Jude Okoye. The group split when Peter decided to go his separate way following unresolved issues with his brothers, especially Jude.
Speaking up now, May D reveals that while he was with PSquare, he never had a bank account and he was made to share a room with their driver and cook, sleeping on a brand new TV carton, using his shirt as his blanket.
He shared on his social media page to slam those who said he was greedy and ungrateful.
May B wrote: "When I speak , people think I'm ungrateful, but the truth will always come out one way or the other last last cuz I'm a covenant child!
"Do you know I was with Psquare since 2008 I never had a bank account!!
"How can you say greed when I never billed them for anything I have ever done for them in my life! From writing credit and vocal credit on the invasion album … ask them if I was ever greedy! Just let them say it!
"For your information I was staying in their boys squatters with their driver and their cook just one room all of us shared a toilet and I had big songs and also the other side of their twin duplex was empty! Now! I slept on brand new television carton used my shirt as cover cloth

"Dont ever in your life , say I'm greedy again.. I'm the most reasonable person you can ever meet!!"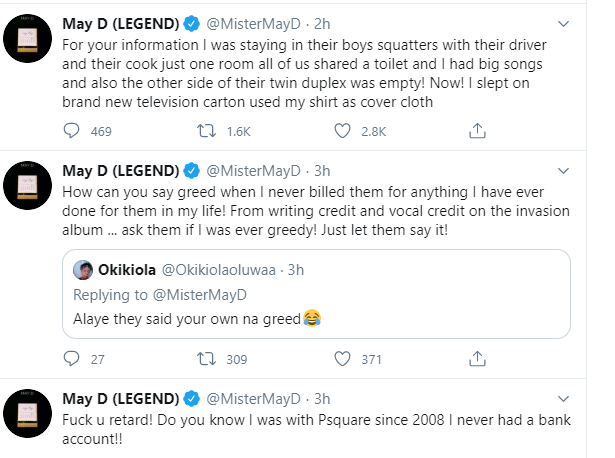 Partner with Expressiveinfo, let's help your business/brand reach a wider audience.
Advertise with us today!
Call 08039323645, 08071610134