There seems to be a new rising obstacle for Ugwumba Uche Nwosu's Governorship ambition in his new party. We all remember that INEC had earlier before now, published the names of governorship candidates of the different political parties expected to participate in the forthcoming election. During that publication, the Action Alliance forwarded the name of Sir Leonard Okolienta which INEC eventually published as the guber candidate of AA.
However, we also know that INEC, as the law permits, gave political parties up until 2nd of December 2018 to make corrections and/or substitutions where need be. And, such periods are also the periods political parties use for final finishing touches on agreements, negotiations, alignments and realignments.
It was at this period that Uche Nwosu reached an agreement with the Action Alliance which led to his emergence as the governorship candidate of the party which the Imo state chapter chairman and the national chairman of AA have already come out to affirm. The state Chairman even said that Sir Okolienta did not purchase governorship nomination forms and challenged him to produce the receipt or proof if it was otherwise.
Today, Sir Leonard Okolienta kicked off his campaign in a place that seemed to be an open bar or eatery and shared a picture of his Action Alliance Certificate of Return which is above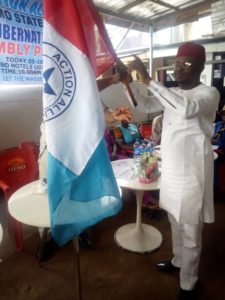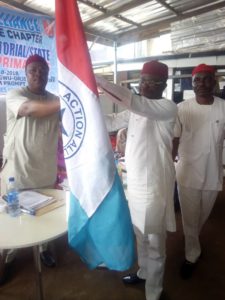 So, this situation is the reason some questions are coming up. Is this an obstacle for Uche Nwosu or a mere distraction from the part of Sir Leonard Okolienta.