The first tenure of President Mohammadu Buhari is coming to an end. With his reelection victory, he will commence his second tenure in no distant time. So, in preparation, he has taken some steps which he shared via his official twitter handle. The steps are outlined below:
I have approved the establishment of a Committee, chaired by the Vice President, to assess the level of implementation of all our administration's Policies, Programmes & Projects – whether inherited, or started by us – and to help prepare us for governance over the next 4 years.
The Committee is made up of senior government officials, including the Chief of Staff and Deputy Chief to the President (Secretary of the Committee), and a number of Cabinet Ministers. They will work with Ministries, Departments and Agencies, as well as with outside experts.
One of the main duties of this Committee will be to produce a comprehensive document that will guide the incoming Cabinet, & enable us continue the implementation of the vision of our Party and our administration, for Nigeria; while also highlighting lessons from the last 4 years.
I am confident that the Committee will deliver a detailed Implementation Plan for the Next Level. I also look forward to working with all stakeholders to deliver maximum benefit to Nigeria; and especially to working with the 9th National Assembly to improve the budget process.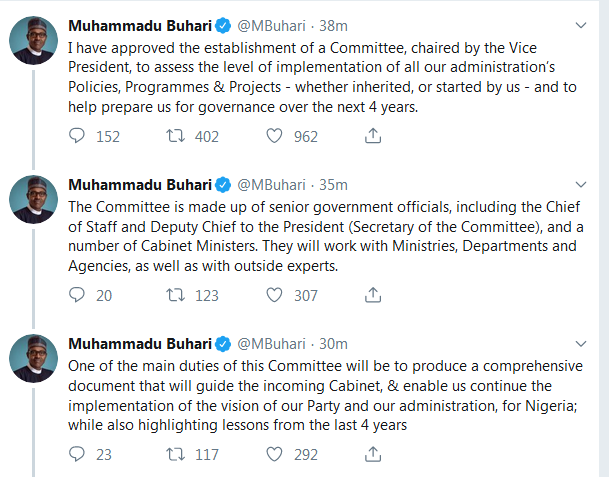 Following the tweets, some Nigerians took the liberty of offering some advice they feel may help in moving Nigeria forward. See the contributions below: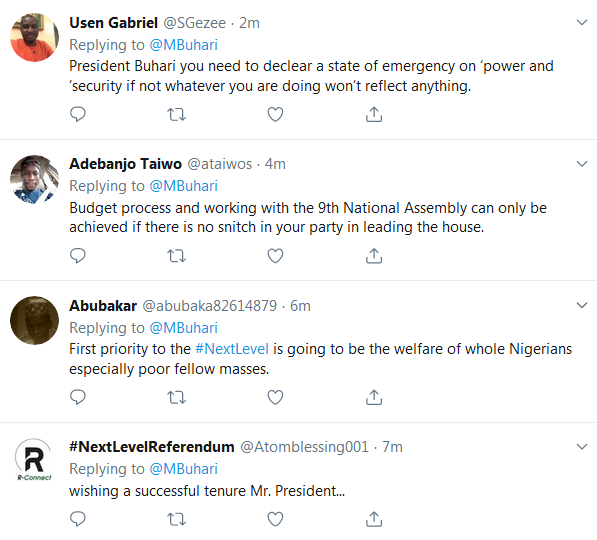 Do you think the President is taking the right steps or would you like to make suggestions that could help the president in having a better second tenure. Feel free to express your opinion in the comment section.