A young man identified as Reward Okpara Isaac Ogbuleka, 26, has been allegedly beheaded and sacrificed to a community deity in Rivers state.
The shocking incident which took place at Odawo, Joinkrama (JK) 3 in Ahoada West Local Government Area of Rivers was shared by Facebook users who knew the deceased and disclosed that the victim was beheaded and used to appeased the deity of Odawo community.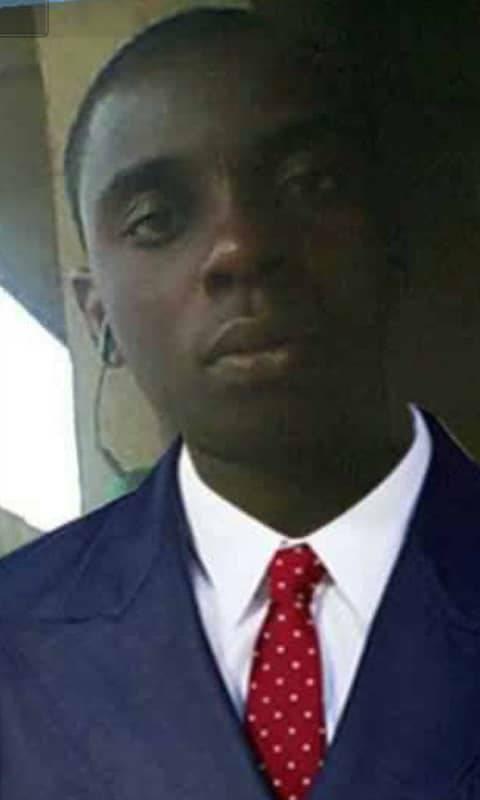 According to the uncle of the deceased, Agadagu Gift who took the sad news to social media, the body of the young man was dumped in a shallow pit after the sacrifice.
He wrote:
Odawo (Joinkrama 3) community killed Master Reward okpara Isaac ogbuleka sacrificed him to their deity and dumped his carcass at a shallow pit by the community field. Odawo community you killed my little nephew causing us pains. Your sons, daughters and deity shall pay the price of this evil forever

My heart is deeply pained by the killing of my little nephew, Master Reward Okpara Isaac Ogbuleka by Odawo community, aka Joinkrama 3 of Engeni Clan, Rivers State. You killed an innocent son whom you sacrificed to your gods. Remember his blood is crying against you before god for vengeance. His carcass whom you dumped in a shallow pit by your community field is crying day and night against you and your children unborn. Odawo community you boosted with impunity that your elites spread across government will always cover your evil acts. Which has been your practice.. Odawo (joinkrama 3) community why do you kill my nephew…. You caused us pain …I pray if your acts of killing is good may your sons and daughters harvest it in thousand folds…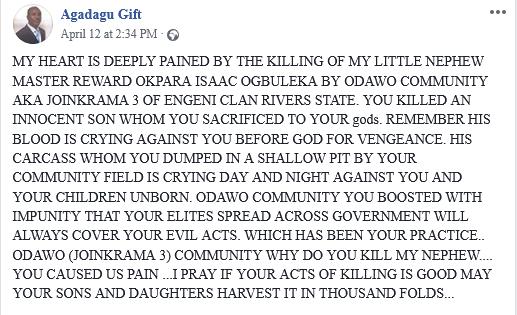 Another Facebook user wrote: