Meta boss, Mark Zuckerberd, has shared a new feature for WhatsApp messaging.
In his verified Facebook page, he wrote that it is now possible to edit texts already sent on WhatsApp.
With a descriptive picture, Mark wrote: "You can now edit your WhatsApp messages up to 15 mins after they're sent!"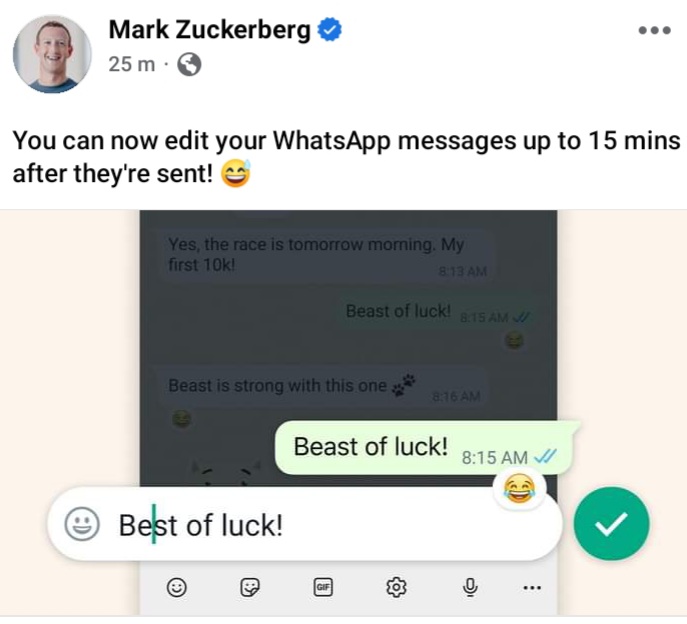 This is coming 3 days after he shared some updates regarding "Meta's next generation infra to power new AI experiences." He wrote:
"Sharing an update on some of Meta's next generation infra to power new AI experiences…
"First, a new data center design optimized for AI — equipped to support liquid cooling hardware to handle training and inference at large scale, and a network designed to support large scale superclusters.
"Second, an update on our Research SuperCluster — with 16,000 GPUs and high speed interconnect, RSC is one of the fastest supercomputers in the world. We use it to train our large language models, as well as the world's first AI translation system for oral languages. Building this cluster ourselves lets us tune it to train our next generation foundation models.
"Third, MTIA (Meta Training and Inference Accelerator) is our first-generation custom silicon chip that we designed to power our AI recommendation systems to help figure out the best content to show you even faster.
"Finally, CodeCompose is our generative AI coding assistant that we built to help our engineers as they write code. Our longer term goal is to build more AI tools to support our teams across the whole software development process, and hopefully to open source more of these tools as well."
The multi-billion dollar firm was recently fined $1.3 billion for violating EU data privacy terms.