On Saturday, a video of a woman who was stripped naked and accused of killing her husband went viral.
In the viral video, the heartbroken woman is seen folding herself beside the corpse of her dead husband as she tries to cover her modesty while she was being publicly humiliated. Read previous report Here.
According to new information gathered, the husband died yesterday. His relatives blame her for his death, saying she killed him because she committed adultery.
The woman was later paraded round the community in the most humiliating manner.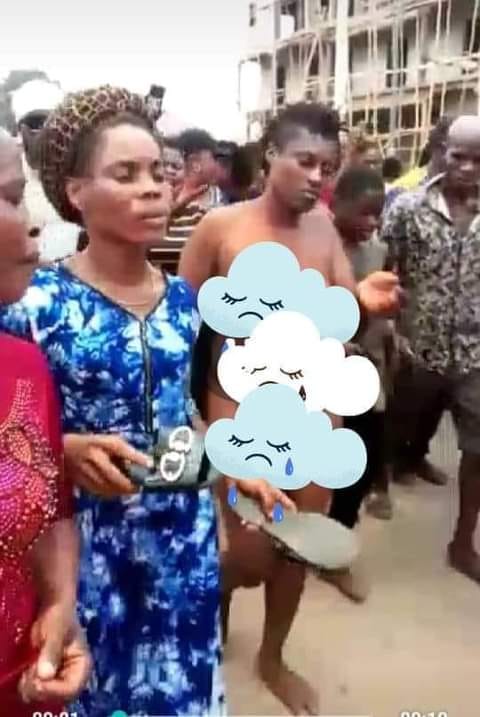 An indigene of Anambra, Anwulika Udanoh has now written to the First Lady of the state, Osodieme Obiano, to come to the rescue to the woman.
Udanoh wrote:
"Dear Chief Mrs Osodieme Obiano , the Executive First Lady Anambra state,
"Madam, are you aware that a young childless widow from Igbo-ezunu Aguleri whose husband died yesterday, was stripped completely naked same yesterday and paraded around Otuocha, and Enuobodo Aguleri, for allegedly killing her husband through adultery.
"Your excellency, it's been over 24 hours now and not a single one of the people who humiliated this widow has been arrested.
"No one has seen the woman since the shameful parade ended so, we suspect that they may have killed her or she took her life where no one could find her body.
"Your excellency, as a concerned daughter of Omambala, i write to demand justice for Ajuese, not only because you are from Aguleri but because, you are the mother of the state and this widow is your subject.
"I know how much you have sponsored women empowerment and I am convinced that you won't let this go like the culprits expect.
"What happened yesterday is an eyesore and an abomination. We are not as backward as these monsters portrayed us yesterday.
"Whether the widow is alive or not, I plead that you use your office to perfect justice.
"The attached picture was cropped out from the heartbreaking video these animals in our midst made of their crime and circulated on social media. I censored it.
"The culprits numbering over 100, headed by her husband's relatives, could be seen in the trending video.
"It is a pity that the Police could not save this woman yesterday as they paraded her past the Otuocha police station.
"I am doing my best to get to the root of this as I am on ground in Otuocha but, my best will never be enough, since I am not from Aguleri.
"This is why I need your help, Ma!"