Remember the report shared here about five Nigerian Men who where arrested in Dubai for robbing a money exchange in Sharjah and fled with Dh2.3 million.
Well, the news generated a lot of reactions from Nigerians at home and in the diaspora. Even the Federal government condemned the action of the arrested Nigerians through the chairman of the National Diaspora Commission, Mrs. Abike Dabiri. Read that here.
Some of the questions people asked in reaction to the news was why the names of the culprits was not mentioned which meant that the men may not even be Nigerians since there was no proper identification. Others even said that they should mention their names so that people would know the part of Nigeria they come from.
Well, this morning some blogs started posting some names as the names of the five robbers arrested in Dubai.
The purported names of the five suspects revealed are:
1. CHIMUANYA EMMANUEL OZOH
2. BENJAMIN NWACHUKWU AJAH
3. KINGSLEY IKENNA NGOKA
4. TOCHUKWU LEONARD ALISI
5. CHILE MICAH NDUNAGU.

You have to be properly guided that these names have not been confirmed by the authorities in Nigeria or Dubai.
Below is the Instagram handle which the Sharjah Police Headquaters used to announce the news. So far, they have not updated it with the names of the culprits.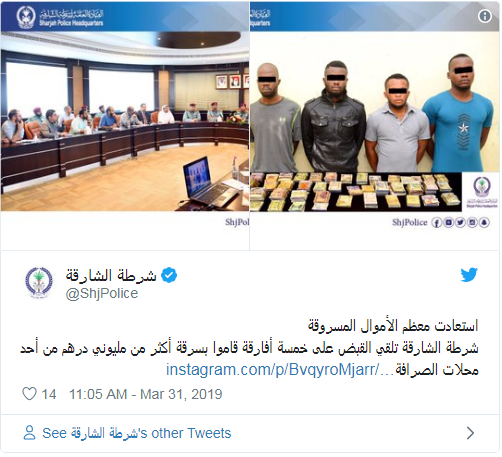 However, whenever there is a confirmation that the names being circulated are truly the names of the culprits, be sure to get the update here.
Until that happens, the names circulating online are unverified.