Despite the 'fruitful' meeting the Academic Staff Union of Universities, (ASUU) had with the representatives of the Federal Government on Friday night, ASUU has clarified that it is yet to agree to call of the prolonged strike.
The FG team led by the Minister of Labour and Employment, Senator Chris Ngige at the meeting increased its offer for Earned Allowances to university based unions and funding for the revitalization of public universities from N65 billion to N70 billion.
The government pledged to pay N40 billion for Earned Allowances and N30 billion for the revitalization of the university system, bringing the total payment to N70 billion.
While speaking to reporters after the meeting, the Minister of Labour, Ngige said, "Many issues were discussed at the meeting including salary shortfall, the payment system and revitalization of the university system. I am positive that all the issues would be resolved at our next meeting."
The new development sent signals of hope that the strike which started since March will soon be called off.
However, while speaking after the meeting, the ASUU President, Prof. Biodun Ogunyemi said no agreement has been reached to call off the strike, stressing that at the meeting, it was only agreed that union should convey Government message to their organs and revert back to Government.
Prof. Ogunyemi, said: " I am not aware of that (agreement to call of strike). All I know is that we had a meeting and we are going to report to our members. But I don't know about suspension of strike."
On the official Twitter handle of ASUU, it was stated that "The Union however insisted that the funding should be implemented before the strike would be suspended."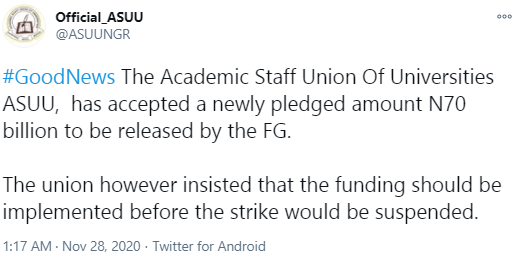 Friday's meeting was about the seventh time both sides have met to resolve the pending issues in contention since the university union embarked on strike on March 23.