Nigerian activist and Sahara Reporters publisher, Omoyele Sowore today, 29th September challenged popular Afrobeat singer, Burna Boy to join the #RevolutionNow nationwide protest planned for October 1, 2020.
Sowore had announced the protest since 18th September, saying:
"Are u fighting for self-determination, against #EndSARS, Insecurity, Extra-Judicial killings, Unpaid wages, high School fees, Shiites massacre, #IPob Massacre, Economic Hardship, election rigging, high fuel prices, transparency.. Let's meet at the barricades on #October1stProtest"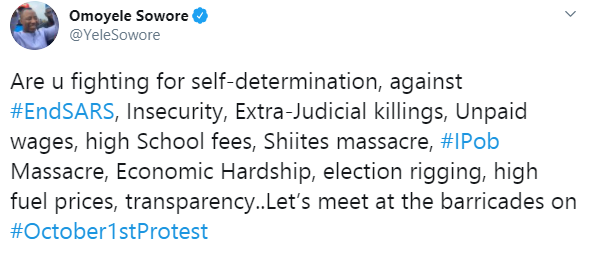 The October 1 protest is planned to hold in all 36 states across Nigeria as well as in London, Sweden, Netherlands, San Francisco, New York, Washington DC, Germany and Canada.
As part of awareness campaign to get as many people involved as possible, Omoyele Sowore called on Burna Boy today, Tuesday, to join the protest since many know him as a revolutionary musician and has been likened to the late Afrobeat legend, Fela Kuti
Sowore wrote on Twitter:
"Hello @burnaboy, everywhere I turn people describe you as a revolutionary musician, the foreign media even celebrate you compare you to Fela Kuti, but I am yet to see you lead anyone to a police station carrying a coffin for head of state! Join #Oct1stProtest #RevolutionNow"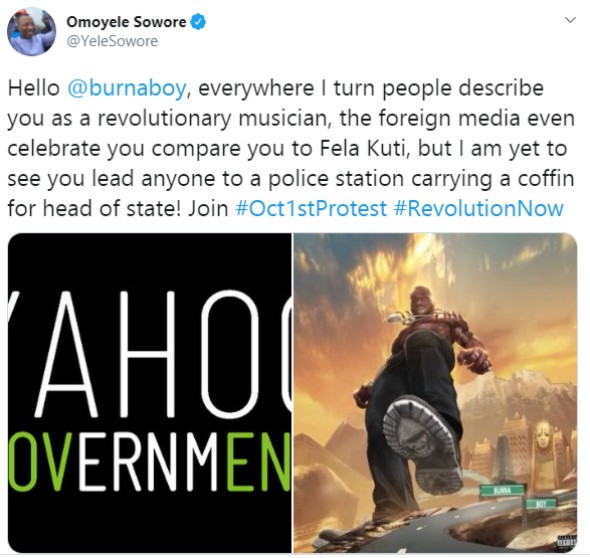 Burna Boy has now replied that he doesn't trust Nigerian politicians, including Sowore. Read his tweet below.
"Everybody is a Fela fan and supporter now that he is dead. Humans are so Funny, You politicians are ALL the same (especially in Nigeria) and Frankly I don't trust none of you.@YeleSowore."