Nigerians have takent to Twitter to react to the decision of the Supreme Court of Nigeria which restricted the CBN from implementing its February 10 Deadline.
Recall that the supreme court on Wednesday issued an interim injunction restricting the CBN from moving forward with its new naira redesign policy. Read more here.
Nigerians have expressed mixed reactions to the ruling. While some praise the apex court for its ruling, others are dragging the court, saying the decision is not in the best interest of ordinary citizens.
According to Twitter user, Dr Dipo Awojide, "The Supreme Court got this one right. People didn't have to suffer. Now, the federal government should pursue other means of stopping vote buying. INEC and the Police should ensure a free, fair and credible election. I hope the government will obey this judgement."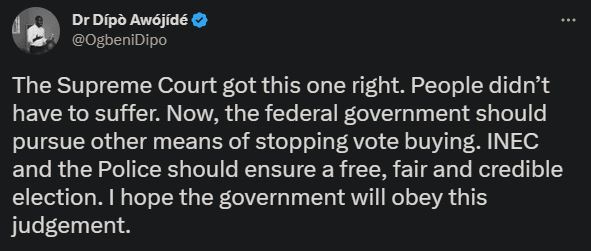 Qudus Akanbi Eleyi of Lagos says, "The Supreme Court of Nigeria Led by Justice Olukayode Ariwoola, the Chief Justice of Nigeria, CJN Thank You so much Chief justice of Nigeria, Nigerians will never forget you."
Nkem says, "The supreme court judgment is of no use to the masses. CBN has already taken over 1 trillion naira worth of old notes out of circulation. This decision won't bring back the old notes into circulation or make the new notes available. It will only give room for corrupt politicians to buy votes on Election day. Hardship continues."
Forward Ever on Twitter says, "The decision of the Supreme Court does not favour the common man who doesn't have the old notes and to who the banks cannot issue the old notes. It will only favour the politicians who starshed away the old notes in billions"