Controversial investigative journalist, Kemi Olunloyo has incurred the wrath of popular UK-based Nigerian social media commentator, Adetutu Balogun, and she got a thoroughly savage reply.
It started when Kemi Olunloyo who is well known for begging her online followers for fund, in the name of "donations", accused Adetutu of being and "APC prostitute".
Kemi also accused Adetutu of trying to buy fan loyalty with money and giveaways.
Kemi tweeted;
"Tutsy is doing an all day giveaway. Trying to buy fan loyalty for followers is real… with open mouth and cold sweat I have no fans, just followers. U come to my page, get your information after I post it and I leave. No giveaways from WizKid, Cuppy, Kemi OlunloyoThe ones that support my work don't need it."
Provoked by Kemi's comment, Adetutu made series of tweets where she called Kemi an 'investigative begger,' and a poverty-stricken beggar at 56. Adetutu also recalled when Kemi knelt down to beg Linda Ikeji on Hushpuppi's instruction over money.
Adetutu wrote:
"I give, you beg. Investigative beggar. If you want N1,000 let me know."
"A heart at peace gives life to the body, but envy rots the bones like cancer. While u are begging for N1k from younger generation on SM, l am busy supporting younger generation to build biz & careers. US trained, Canada deported, poverty-stricken N10 donation recipient! At 56!"
"When Hushpuppi baited you to bark like a dog for money… within 24 hours, you are doing "woof woof woof" upandan social media like a chihuahua. Adagba je Raufu, o san ju Ogundeji ba n mugawa!"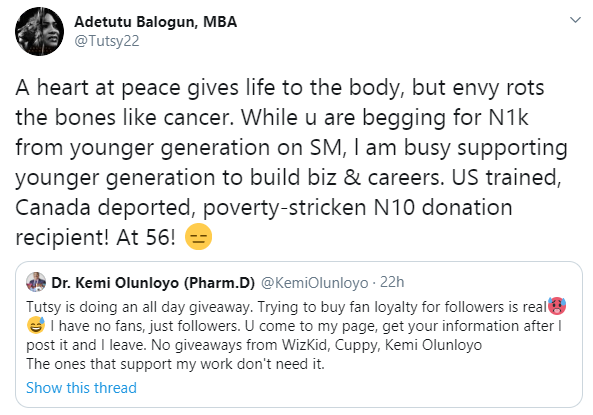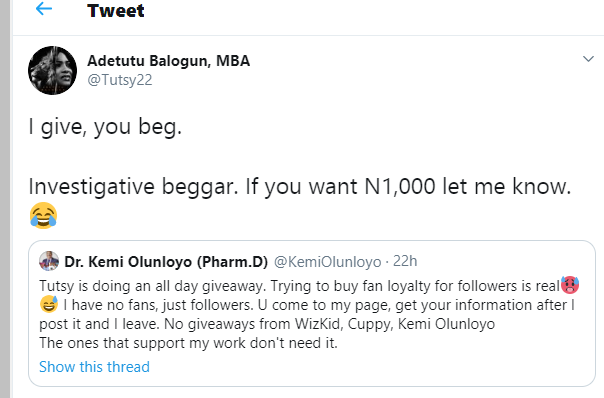 Partner with Expressiveinfo, let's help your business/brand reach a wider audience.
Advertise with us today!
Call 08039323645, 08071610134