Popular Ghanaian actor cum politician, John Dumelo yesterday advocated for the legalisation of polygamy because, according to him, most married men have side chicks.
Under Ghana's civil laws, polygamy is considered illegal, even though a large part of the population who are Muslims and members of the African Traditional religion do not find any problem with it and engage in it.
During an interview with Citi FM, John Dumelo said;
"I feel that there's nothing wrong with it. I mean if our brothers and sisters who are Muslims are doing it perfectly, why not Christians? Provided you can take care of your family and your two or three wives that's fine and I mean, I speak to a lot of Muslim friends of mine and they're okay with it, personally I don't believe in it but I feel it's good for Ghana."
John Dumelo again posted this on his Facebook and his IG pages but deleted it after sometime. Below is the screenshot of the post where he also added that polyandry should also legalized to allow women marry more than one partner.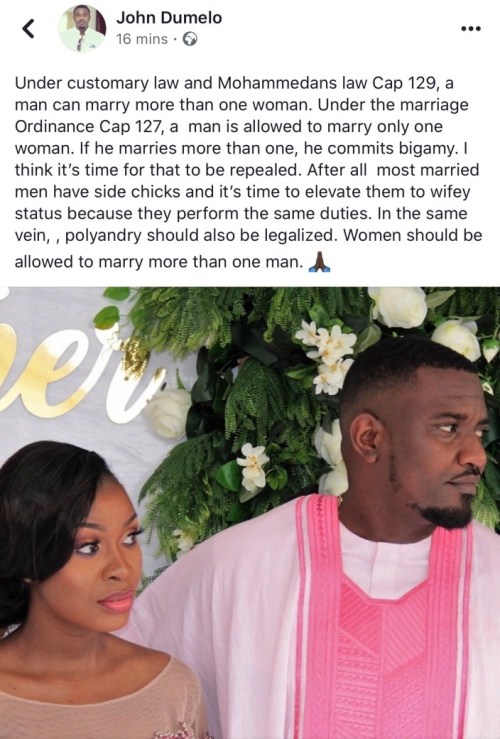 John Dumelo's comments attracted a lot of reactions, including from his wife, Gifty who told him to prepare to meet her new husband at home.
"Equal rights indeed …babe hurry home and meet my new husband," she wrote under her husband's post, which has now been removed from his Instagram page.