Controversial investigative journalist, Kemi Olunloyo is really at it again! This time, she is dragging Late Dora Akunyili who served as the Director General of National Agency for Food and Drug Administration (NAFDAC) between 2001 and 2008.
In as series of tantrums she threw via Twitter on Sunday night, Olunloyo claimed that the much respected Dora Akunyili didn't do her work well while she was at NAFDAC and that she took bribes.
It all started when some Twitter users tagged Kemi Olunloyo while slamming an Oye-Ekiti based supposed pharmacist who is being accused by several alleged victims of sexually molesting them when they come to his drug store.
The supposed pharmacist named Chuks Eze is said to have frequently taken advantage of young women, especially female FUOYO students, who come for medication when they are sick.
When Olunloyo was tagged to a tweet, she warned users not to tag her and said Dora Akunyili who died far back in 2014 is the cause why the pharmacist is abusing women.
She wrote:
"Don't tag me to #oyepharmacist shit. [I] Didn't train in Nigeria. Anyone sexually abused by a Pharmacist caused their own demise. If Dora Akunyili and your fraudulent Pharmacy Assoc had done their job, RPH's won't be diagnosing patients in ur land of "let me save money from a Dr's office"
Because Olunloyo dragged Akunyili who is still receiving accolades even in death for her performance at DAFDAC, a Twitter user warned her not to mention Akunyili's name and to respect her achievements.
The Twitter user, Samuel Edekhor, wrote:
"You better be careful the way you call Dora akunyili name in this…because she is a legend and you are not…in your lifetime you can never do what she did or Attain the height she attained…give respect to who deserves it please."
In replying the tweet, Olunloyo then alleged that Akunyili had an affair with former President Olusegun Obasanjo and that she took bribes.
"Akunliyi slept with Obasanjo, didn't regulate pharmacy, lied about Bird flu and I forced her to take down signs at Mr Biggs in 2006 and took bribes from lobbyists as well as doctored the Pfizer Report. DON'T TRY ME!" She wrote.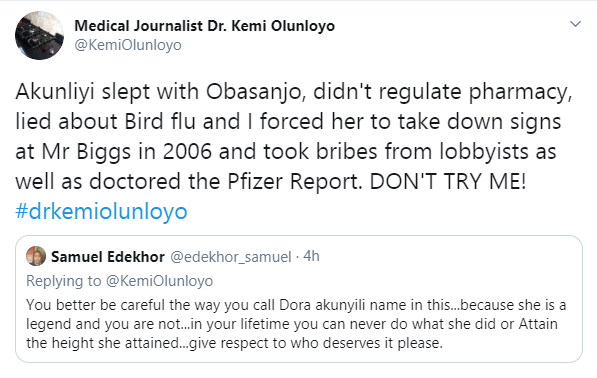 Late Prof Dora Akunyili was popular because of her courageous fight against drug counterfeit in Nigeria during her time as the DG of NAFDAC between 2001 and 2008. She was many times targeted for assassination by drug counterfeiters, and was even shot.
She won several awards for her work in Pharmacology, public health and human rights.
She was later appointed Minister of Information and Communication, a post she held between 2008 to 2010.

Akunyili died in 2014 after a battle with cancer.
Partner with Expressiveinfo, let's help your business/brand reach a wider audience.
Advertise with us today!
Call 08039323645, 08071610134