Nigerian music producer, Don Jazzy has joined the 'Say No to Rape' campaign and said that rapists and rape apologists deserve to die for their barbaric acts.
Don Jazzy took a stand against the 'barbaic act' while reacting to the stories of rape and murder of innocent young girls in Nigeria which was triggered by the recent rape and murder of Vera Uwaila Omozuma of UNIBEN.
Don Jazzy posted a photo of himself, holding a placard with an inscription; "Say No to Rape".
He then wrote: "I saw a thread on Twitter, different ladies writing about their traumatic rape experiences. I can't begin to imagine how these women feel.
"The pain they suffered and are suffering mentally every day. It is so heartbreaking. I believe every rapist deserves to die.
"If you are a rapist out there and you see this, you should be ashamed of yourself and I want you to know that one day you will pay for your barbaric crimes.
"This goes to rape apologists too and those that know a rapist and is protecting them. SHAME ON YOU. #saynotorape #JusticeforUwa #JusticeforTina #WeAreTired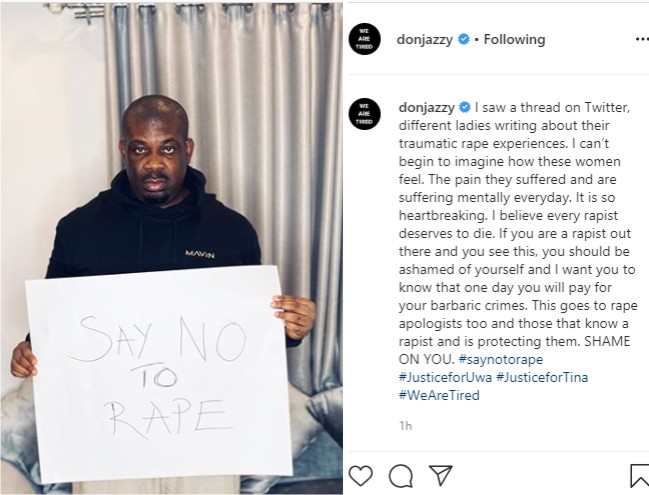 Partner with Expressiveinfo, let's help your business/brand reach a wider audience.
Advertise with us today!
Call 08039323645, 08071610134