A police sergeant, Collins Akpugo, on Monday night shot dead Chukwubuike Onuoha (21), an undergraduate of Michael Okpara University of Agriculture, Umudike (MOUAU), at Okwulagha Afara-Ukwu, within Umuahia metropolis, Abia State.
The deceased was said to be an indigene of Afaraukwu Ibeku in Umuahia North council of AbiaState. Angry indigenes were said to have taken to the streets yesterday morning, protesting the killing of Onuoha.
A woman leader from the community, Mrs Ngozi Ogbonna, who led the protest, disclosed that the deceased was shot right in front of his father's compound.
Recounting how the deceased was killed, Ogbonna said: "Onuoha was in the company of other youths when the policemen drove towards them in a Toyota Hilux van. The policeman flashed the van's headlight at the youth, temporarily blinding them. Onuoha walked up to the van, pleading with the policeman to dim the light. Rather than comply, the policeman alighted and shot the deceased on his shoulder."
According to Ogbonna, at that point, some of the youth, including Onuoha's brother, tried to confront the shooter, but he chased them away with his gun. Later, he shot Onuoha on the chest again, before abandoning his van and fleeing the scene.
She further said: "We know Collins very well; he is a tenant in our community. He killed our son for no just cause. Onuoha was confirmed dead at Federal Medical Center Umuahia this morning (Tuesday). We have gone to the government to complain; we are also going to the police command to express our grievances. All we want is justice in this matter."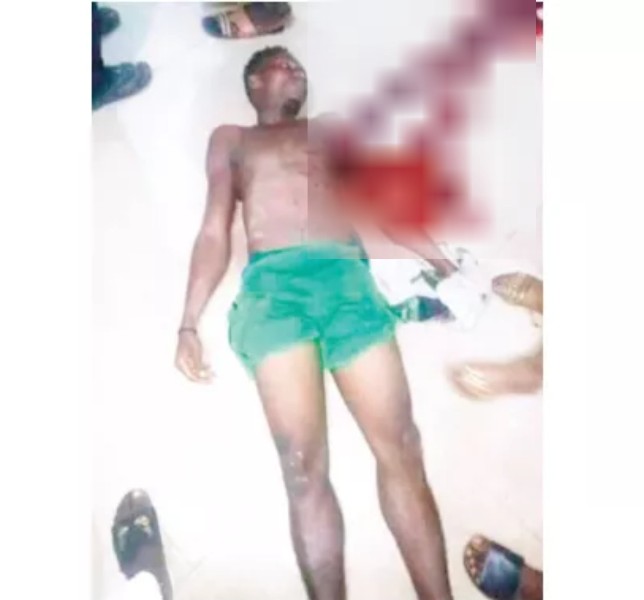 The incident caused pandemonium within the Umuahia capital city in the early hours of Tuesday, as youths, who had earlier gone to protest at the Central Political Station Umuahia were dispersed by policemen who shot canisters of tear gas into the air. The protesters also blocked some sections of the Umuahia-Bende Road.
The Abia State Police Public Relations Officer (PPRO), Mr. Geofrey Ogbonna, while confirming the incident, said, "We got a signal last night that a policeman shot a resident of Afara community. The CP has ordered a thorough investigation into the incident. Meanwhile, the CP has sent a delegation to commiserate with the family and community of the deceased. The CP has assured that no stone would be left unturned to get to the truth and to ensure that justice prevails."