Activist Omoyere Sowere, the publisher of SaharaReporters has revealed what happened after the Department of State Service produced Nnamdi Kanu in Court on Tuesday, June 29.
The leader of the Indigenous People of Biafra (IPOB) was reportedly brought to court amidst tight security. He arrived at the court at about 1:40 pm.
According to Sowore, Justice Justice Binta of the Federal High court in Abuja ordered the detention of kanu till July 26 when his trial will continue.
Read Sowore's tweet below.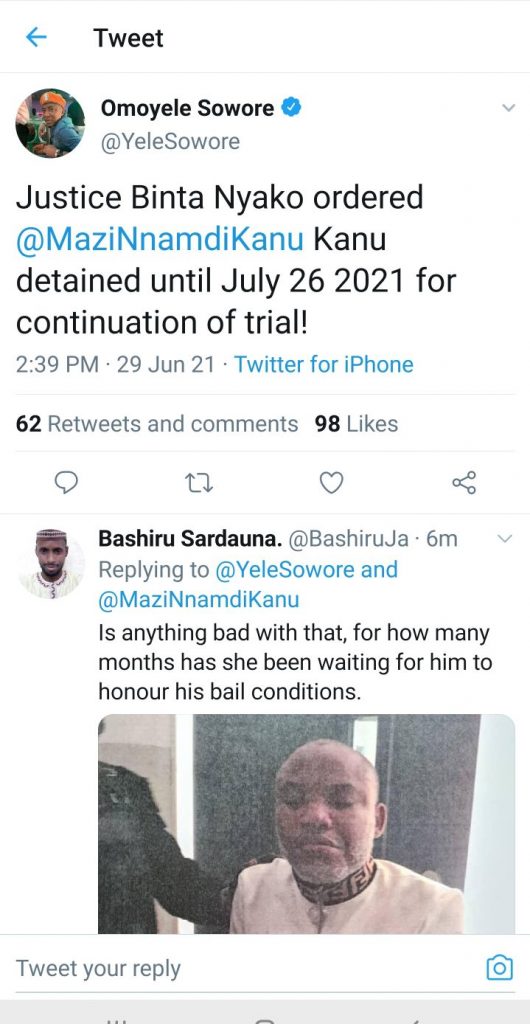 The Attorney-General of the Federation and Minister of Justice, Abubakar Malami, SAN, had broken the news of Kanu's arrest on Tuesday, at an emergency media briefing in his office.
Although, IPOB spokesman, Emma Powerful, has denied the news of the arrest.
Kanu is facing charges bordering on treasonable felony instituted against him at the federal high court in Abuja in response to years of campaign for the independent Republic of Biafra through IPOB.
He was granted bail in April 2017 for health reasons but skipped bail after flouting some of the conditions given to him by the court.
He has also been on the run since then after soldiers raided his father's residence in Abia state.
IPOB was later declared a terrorist group by the defence headquarters and court after the south-east governors proscribed it.
Despite the court's insistence on his appearance, the IPOB leader has remained abroad, and once said he jumped bail to pursue the cause of Biafra.