The Central Bank of Nigeria (CBN) has released information to educate Naira users on how to identify the genuine new Naira notes.
This information was let out as reports reveal that counterfeits of the new Naira notes are also circulating.
The pictures below show the security features of the new N1000, N500 and N200 notes.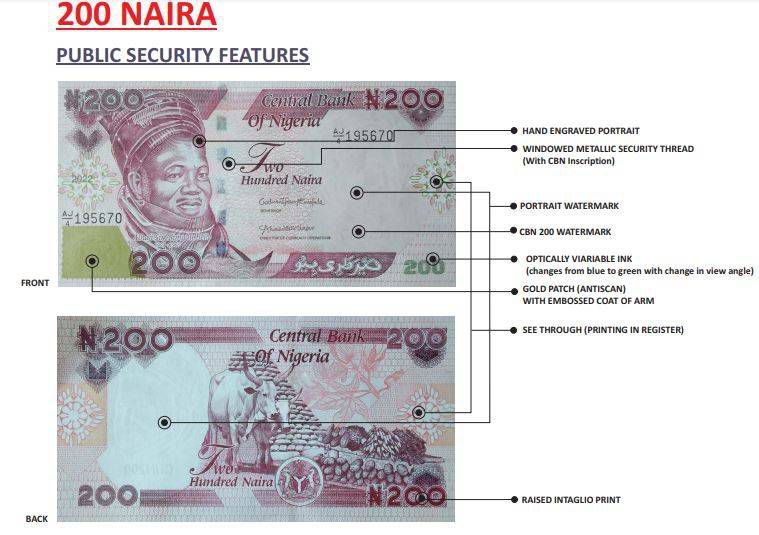 A number of the security features accompanying the Naira notes that were released to the public are features that can be felt and seen, including security thread and watermark.
The genuine new Naira notes are not soft to touch, and their images are not dull. There is also a gold foil on the right side of the notes, close to the CBN governor's signature.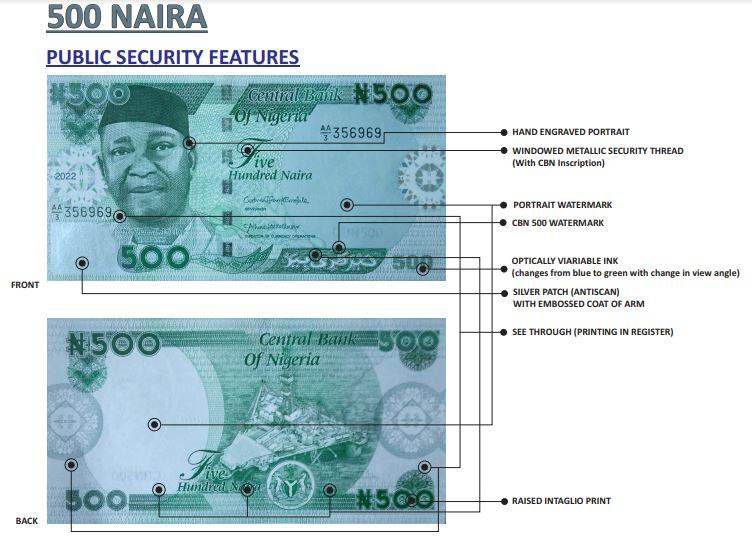 An impressive way to identify the fake new notes is to apply liquid on them. They would be observed changing colour easily.
Also, the ribbon-like thread in the genuine notes can also be touched and observe.
If raised to a mercury bulb, other features in the new Naira notes that are invisible to the naked eyes.
Other special features are resistance to photocopying and colour change under ultra-violet light. The black colour of the serial numbers on the new notes will turn green under ultra-violet light at a certain angle of view.
For the N1000 note, the CBN mentions features intaglio prints or raised prints embossed on the notes, portrait watermark, iridescent band, kinegram with the image of the Coat of Arms and amount value for the note, and windowed metallic security thread and transparent printing in register.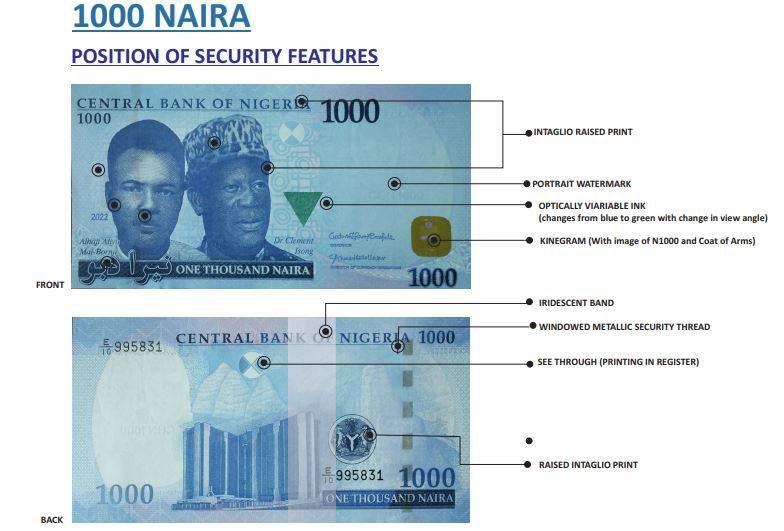 Similar features with little variations in some are mentioned for the N500 notes, such as hand-engraved portrait, CBN 500 watermark, silver patch with embossed Coat of Arms, windowed metallic security thread with CBN inscription, officially variable ink that changes from blue to green with a change in angle of view, raised intaglio print and transparent printing in register.
As for the N200 notes, several security features like hand-engraved portrait, windowed metallic security thread with CBN inscription, CBN 200 watermark, portrait watermark, officially variable ink that undergoes a blue-to-green iridescence, or colour variation at several angles of view, gold patch with embossed Coat of Arms, transparent printing in register and raised intaglio print.