Founder of DAAR Communications, Raymond Dokpesi and his son have had a difference of opinion over comments made on COVID-19.
Recall that after Dokpesi Sr. was discharged from the Isolation centre, he said he was confused on the difference between COVID-19 and malaria as all drugs he was given were malaria drugs.
The comments draw a lot of attention which prompted him to write to AIT and Raypower.
In an internal memo to staff of AIT and Raypower, the two stations owned by DAAR Communications, the media mogul said on Sunday, May 17, that the airing of the viral comments should be suspended.
He said in the memo: "I write to request you to discontinue referencing the comments and views expressed by both the founder, Engr. Raymond A.A Dokpesi, and the Chairman, Chief Raymond Dokpesi Jnr, in all your news bulletins and in fact bring them down from your official websites for now.
"Very senior citizens and elders have argued and I agree with them that I should have addressed a private message to the PTF and the Presidency rather than cast aspersions on their methods thereby creating doubts in the minds of the public. 

"I also agree to an immediate truce."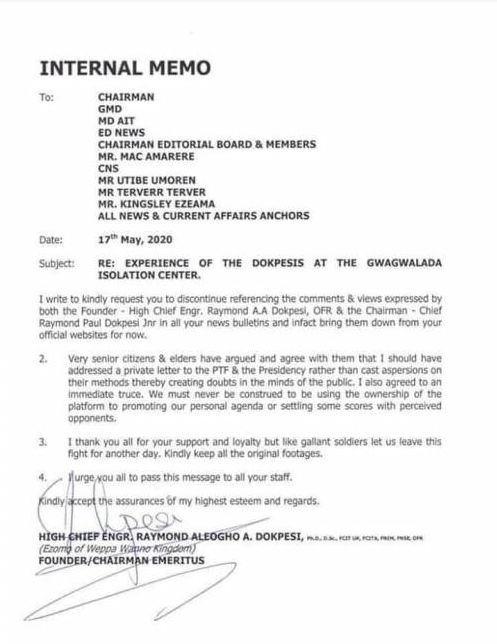 Dokpesi Jnr, upon his release from the Coronavirus isolation center, said caution must be exercised in comparing Coronavirus to malaria. He had also said that he didn't see his test results after he was confirmed positive.
However, after his comments were taken down in line with his father's directive, Dokpesi Jr objected to his father censoring his views.
According to Sahara Reporters, Dokpesi Jnr was said to have told some DAAR Communication staff that he will not grant any more interviews to his father's media organization.
He said, "I note and observe that the Facebook link that started trending has been taken down. I regret the action but reserve comment.
"Please note that this was my last interview with any DAAR Communications PLC media and I will never grant this media house comment on any issue whatsoever.
"If you have interest in any comment I may have, you may report it from other media houses or from my personal social media comments.
"Please do not even consider approaching me for any comments. Official comments regarding DAAR Communications PLC shall henceforth be routed via press release through the ED Corporate Communications or the Company Secretary."
Partner with Expressiveinfo, let's help your business/brand reach a wider audience.
Advertise with us today!
Call 08039323645, 08071610134