African football legends, Didier Drogba of Ivory Coast and Samuel Eto'o of Cameroon, have joined other Africans in calling out two French Doctors who asked for the new Coronavirus vaccine being developed to be tested in Africa.
During the debate on TV channel LCI, Jean Paul Mira and Camille Locht insisted that Africa is the best place to conduct such test as they recalled how an experimental treatment for AIDS was carried out in Africa.
Jean-Paul Mira, head of intensive care at Cochin hospital in Paris, then says: "If I can be provocative, shouldn't we be doing this study in Africa, where there are no masks, no treatments, no resuscitation?"
"A bit like as it is done elsewhere for some studies on Aids. In prostitutes, we try things because we know that they are highly exposed and that they do not protect themselves."
Reacting to the video which has gone viral on social media, Didier Drogba stated that Africa is not a testing lab. The former Chelsea player also called on African leaders to protect their people from horrendous conspiracies.
He tweeted, "It is totally inconceivable we keep on cautioning this. Africa isn't a testing lab. I would like to vividly denounce those demeaning, false and most of all deeply racists words. Helps us save Africa with the current ongoing Covid 19 and flatten the curve.
"Let us save ourselves from this crazy virus that is plummeting the world economy and ravaging populations health worldwide. Do not take African people as human guinnea pigs! It's absolutely disgusting…
"African leaders have a responsibility to protect their populations from those horrendous conspiracies. May god protect us!"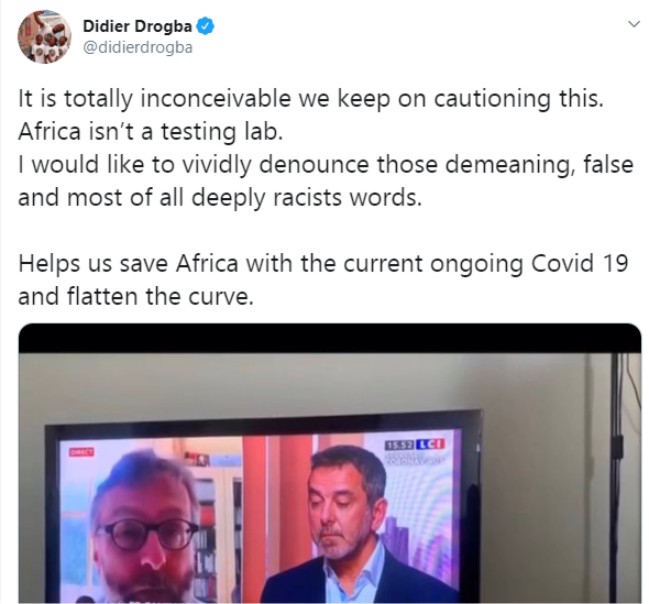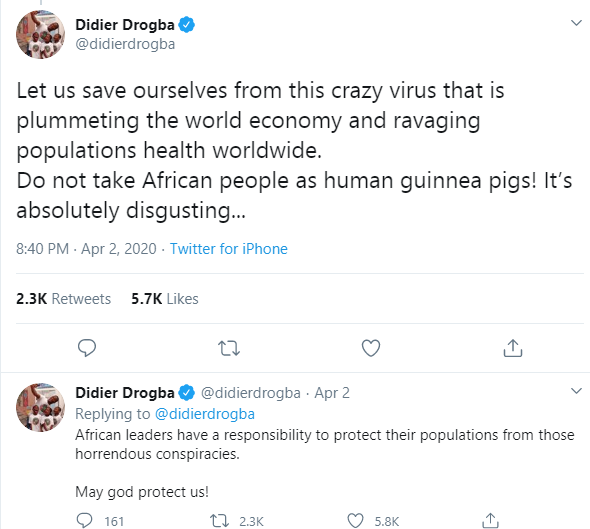 Samuel Eto'o who also reacted to the interview also called the doctors "murderers", stating that Africa is not a playground.
He wrote; "Son of P … You're just SHIT, Africa isn't your playground."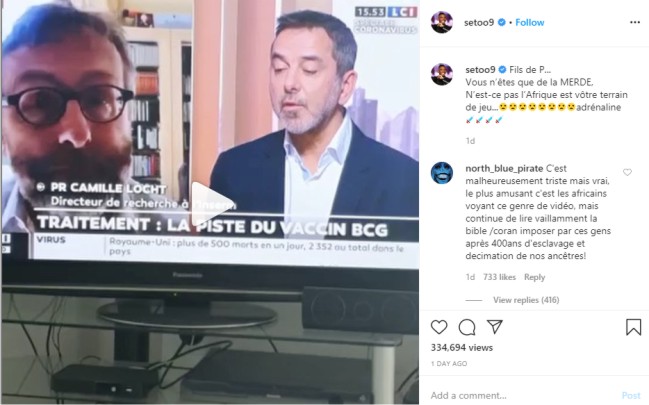 Demba Ba also shared the video and wrote "Welcome to the West, where white people believe themselves to be so superior that racism and stupidity have become commonplace. TIME TO RISE."
Partner with Expressiveinfo, let's help your business/brand reach a wider audience.
Advertise with us today!
Call 08039323645, 08071610134