Tech giant and Tesla CEO, Elon Musk and his partner, Singer Grimes have been forced to amend their baby's name to comply with the law in California.
The couple got a lot of people talking after they named their new born son "X AE A-12 Musk" early this month.
After welcoming their baby on May 4th, they announced the baby's name thereafter. But many didn't know how to pronounce the name until recently when Musk appeared on the Joe Rogan Experience podcast, helping the internet put out its collective misery about the actual pronunciation of X Æ A-12 (pronounced 'Ex Ash A Twelve')
However, due to California law, 'X Æ A-12' shall henceforth be known as 'X Æ A-Xii.'
Apparently, California law prohibits Indo-Arabic numerals in names, but does allow for Roman numerals, as well as any relevant apostrophes and, in this case, dashes.
The baby's mother revealed the subtle name change in Instagram comments, replying to a user who asked, "Did you change the baby name because of Californian laws? What is the baby's new name?"
"X Æ A-Xii," Grimes replied on Sunday, adding "Roman numerals. Looks better tbh."
Fans gushed over the couple's ingenuity in circumventing the law. "Roman numerals…brilliant!" wrote one user. "Almost a palindrome," added another.
"@grimes girl…. why u like this," one bemused fan said. Grimes, aka Claire Elise Boucher, had previously explained the meaning of the name on Twitter.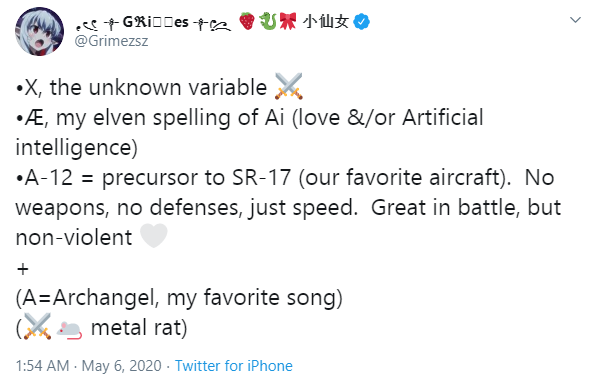 X AE A-12 Musk is Elon's seventh child. He has six kids – Nevada, Damian, Saxon, Griffin, Xavier and Kai – with ex-wife, Justine Wilson. Musk and Grimes came out as a couple in May 2018 at that year's Met Gala.
Partner with Expressiveinfo, let's help your business/brand reach a wider audience.
Advertise with us today!
Call 08039323645, 08071610134