Actress Tonto Dikeh will not cease to amaze one as she has displayed another side of her which is quick nice, generous yet, dramatic as usual.
The actress used her Instagram handle to share the screenshot of a chat with her follower who begged her for financial assistance. In the chat, she reminded the follower she had insulted her before but will go ahead and help her because of her kids.
See what Tonto wrote and the screenshot below.
GOD DIDNT BLESS ME FOR ME!!
YOUR HATE WOULDNT STOP ME FROM MY LIFESTYLING(HELPING AND SAVING SOULS)!!
I WILL GIVE AND KEEP GETTING BLESSED, YOU KEEP CURSUNG AND BEGGING!!
#he said small money I gave him just 50k
(This is not to embarrass you but to TEACH YOU LIFES LESSON)
#KINGTONTO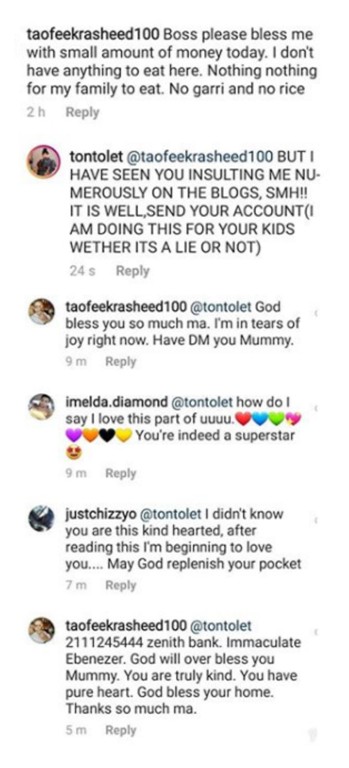 Following her kind gesture, her followers began to pour praises on her and started repenting from the times they had joined people to criticise her harshly. One wrote:
I love your heart, honestly I felt stupid for insulting you too, but I just realized how cool and cute your heart is, the truth is no one really understands you, no one care to reason with you, no one knows the pain you pass through, no one knows what it feels like, all the society do is Condemn instead of giving you a listening ear, you're a strong woman may God bless you and give you all the happiness you lost,I love you
Then trust Nigerian fans and begging, many trooped to her page to also beg for financial assistance. She told them not to beg her until after her birthday because she is saving for her birthday.