Darrel Walls, a popular gospel singer and member of gospel quartet, The Walls Group, is now trending after a video of him kissing a man believed to be his boyfriend leaked online.
According to a report from Lovebscott.com, the 29-year-old singer initially shared the video to his close friends list on Instagram. However one of the friends reportedly made the video public and it's all over the internet.
In the viral video, the two men can be seen having a cozy moment together before kissing each other passionately. 
Following diverse reactions that have trailed the video, Darrel who is a Pentecostal and presents himself as "straight" to both his church and his fans, has deleted his Instagram page but his Twitter account is still active.
Taking to Twitter after the video leaked, he wrote: "You Are Good, Oh Lord… You Are Good."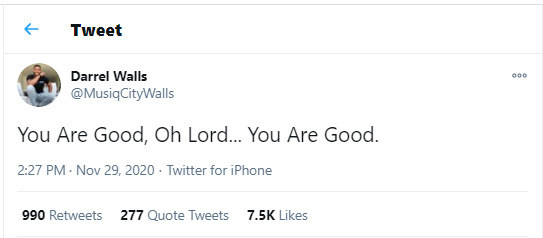 Watch the video below.