Renowned stylist, Toyin Lawani has shared another nude photo, this time she's on the back of her highly praised male PA whom she describes as the "number 1 nudist in Nigeria."
The serial entrepreneur who has been attempting to break the internet by posting nude photos of herself shared the photo as a gift to celebrate her PA, Desmond Marcualey whom she says is her first male brand ambassador.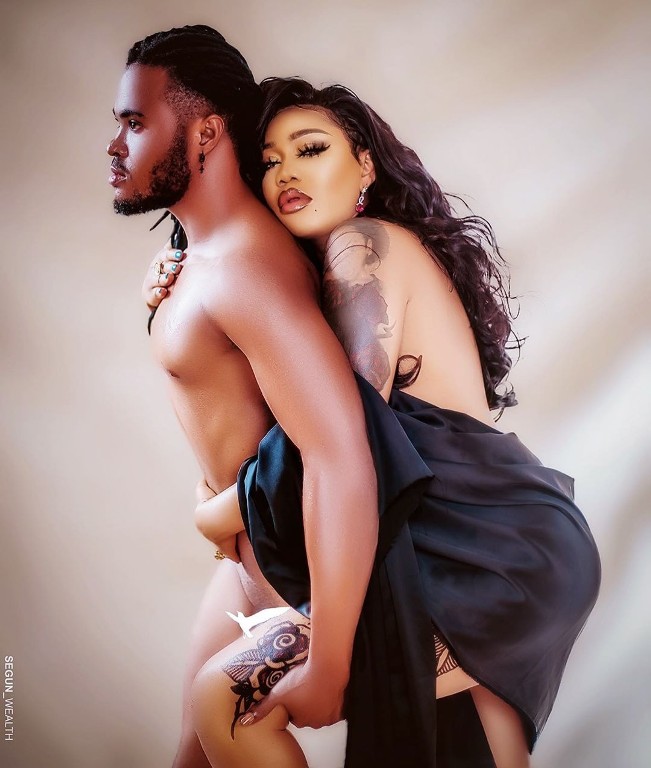 Then she went on to pour him accolades with sweet words. Read the birthday message she wrote below.
I have never had A male Ambassador for @tiannahsglowproducts before , But my pa @deydeysoso_ @4eversoso_ As shown me times without number how he has learnt to be fierce and commanding ,And that's some of my Attributes, Today is his birthday and there's no Greater gift I can give him than this , cause he's very passionate about Style, Body parts and his skin, He's always competing with my skin in the house.
When I'm sick he's the one, when I'm hungry he's the one, my bean and underwear matching he's the one, my hygiene, My Medicine , My Appointments and mY day to day , I have 4 PA's but everyone has their job description, But this one @deydeysoso_ is my super nanny ,try me like this omashajefuneni, Happy Birthday Boy , I'm glad to have watch you Grown over the years and into your own man ,How many of you have a pa ,that can do makeup, cook, style outfits, do hair, sweep, clean , Drive and fight
Oma Gosh , the last time he was piling my Butt they wanted to die ,not knowing we are soul mates when I cry he's always there, when I'm sad he's always there , let's give it up for @deydeysoso_ not like he doesn't hv his own fuckups in my hand but the Good is always more
Love ya have a blast.