Reno Omokri has taken a shot at President Buhari for his almost nonchalant attitude towards the crisis rocking parts of the country, especially the recent killings in Zamfara state.
He pointed at how Former President Olusegun Obasanjo handled a similar crisis when it happened in Plateau in 2004. Read what he wrote:
After Plateau killings in May 2004, Obj visited, and a week later, imposed an emergency, removed Gov Dariye, brought in Gen. Ali and restored peace. If you compare Obj's handling of Plateau to Buhari's handling of Zamfara, its clear Obj is a President Buhari can NEVER hope to be!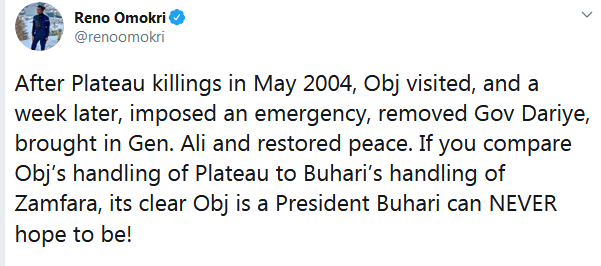 He went on to slam President Buhari for going to Jordan despite the killings that happened in Zamfara. He said: