Today, June 9th, the Imo State Councillors Forum was saddened with the news of the death of their colleague, Hon Oscar.
Hon Oscar was the councilor representing Umudioka Owerri in Orlu Local Government Area of Imo State.
Unfortunately, immediately after the breaking of the sad news, fake news carriers and enemies of the state took it upon themselves to politicize with the death of the councillor.
It went as far as appearing on Nairaland and some blogs that the councillor had "died some days later after receiving the spray of tear gas by the police on the Chairmen and councilors when they went for peaceful protest against the illegal suspension of the local government elected officers by the out going house of Assembly members."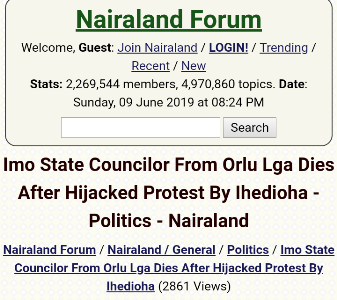 In a telephone call put across to three councillors who were close to the deceased, Expressiveinfo got the exclusive information that the late councilman was not tear gassed and was never part of any protest. It was disclosed that Late Hon Oscar had been very sick, battling with an undisclosed ailment for some time now.
One of the Councillors was very displeased that the news of Hon Oscar's death has been taken as a political tool to cause a rift between the governor and the councillors, as well as misinform the public and cause even more trauma to the immediate family.