Kylie Jenner has slammed Forbes for publishing reports that claims she forged her tax returns and inflated the real value of her cosmetic company.
The 22-year-old makeup mogul and Keeping Up With The Kardashians star took to Twitter to question how truly 'reputable' Forbes is if they can publish 'inaccurate statements and unproven assumptions' about her.
Forbes wrote: "Earlier this year, Kylie Jenner sold half of her cosmetics company in one of the greatest celebrity cash outs of all time. But the deal's fine print reveals that she has been inflating the size and success of her business. For years.
"…a less flattering truth emerged. Filings released by publicly traded Coty over the past six months lay bare one of the family's best-kept secrets: Kylie's business is significantly smaller, and less profitable, than the family has spent years leading the cosmetics industry and media outlets, including Forbes, to believe.
"Of course white lies, omissions and outright fabrications are to be expected from the family that perfected—then monetized—the concept of "famous for being famous." But, similar to Donald Trump's decades-long obsession with his net worth, the unusual lengths to which the Jenners have been willing to go—including inviting Forbes into their mansions and CPA's offices, and even creating tax returns that were likely forged—reveals just how desperate some of the ultra-rich are to look even richer.
"It's fair to say that everything the Kardashian-Jenner family does is oversized," says Stephanie Wissink, an equity analyst covering consumer products at Jefferies. "To stay on-brand, it needs to be bigger than it is."
"Based on this new information—plus the impact of COVID-19 on beauty stocks and consumer spending—Forbes now thinks that Kylie Jenner, even after pocketing an estimated $340 million after tax from the sale, is not a billionaire."
While reacting to the brutally slandering publication, Kylie wrote:
'What am i even waking up to. i thought this was a reputable site.. all i see are a number of inaccurate statements and unproven assumptions lol. i've never asked for any title or tried to lie my way there EVER. period
' "even creating tax returns that were likely forged" that's your proof? so you just THOUGHT they were forged? like actually what am i reading.
'but okay i am blessed beyond my years, i have a beautiful daughter, and a successful business and i'm doing perfectly fine.
'i can name a list of 100 things more important right now than fixating on how much money i have'
Following Kylie's reactions, she was then asked if Forbes' publication is what bothers her right now considering that the world is suffering from a pandemic and America is still worried about the death of a black man, George Floyd, killed by a white police officer. To that she said, "This is literally the LAST thing I'm worried about".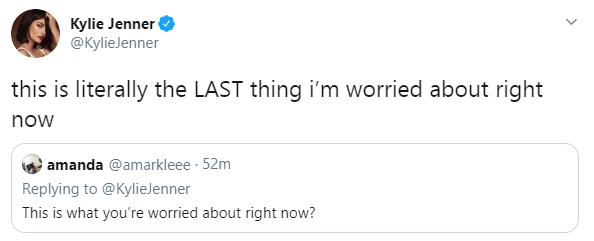 See her other tweets below.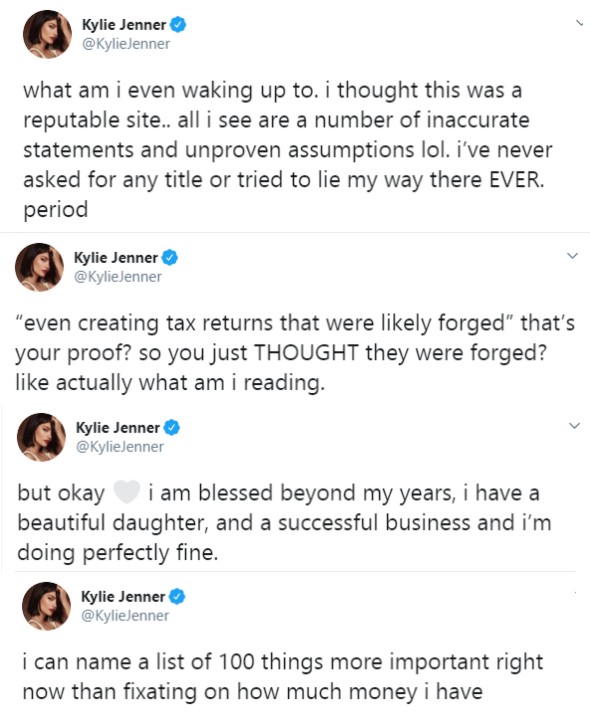 Partner with Expressiveinfo, let's help your business/brand reach a wider audience.
Advertise with us today!
Call 08039323645, 08071610134