Former presidential aide and a vocal critic of the Buhari-led government, Reno Omokri has sort to know why the proposed COVID-19 cure from Prof Maurice Iwu has not received promotion from Nigeria, the way Madagascar is promoting their own herbal remedy.
In early March 2020, Maurice Iwu who is one of Nigeria's finest Professor of Pharmacognosy, and a former chairman of INEC, disclosed that he had a possible cure for the novel Coronavirus (COVID-19).
"When the Ebola virus broke out in 2014, many Nigerians were surprised that we had an experimental lead compound that we identified in 1999," Prof Iwu had said.
"Now with the emergence of a novel coronavirus in 2019 as COVID 19, we have identified and patented a possible treatment back in 2015, it is very important that we must remain ahead of these emergent infections through research," he added.
While reminiscing how the President of Madagascar, Andry Rajoelina, has been promoting the herbal remedy from his country, Reno Omokri wondered why the Nigerian government has not made any effort in promoting Prof Iwu's proposed cure. He even said that the lukewarm attitude from the Buhari-led government is possibly because Prof Iwu is from Igbo.
Taking to Twitter on Sunday, Omokri wrote:
"See how Madagascar is promoting its herbal #COVID19 remedy. Why can't Nigeria do the same with Prof. Iwu's cure? Yes, Iwu is Igbo. But if his cure can save lives, I don't think any 97 percenter will mind. Let's end Nigeria's underground civil war against Igbos!"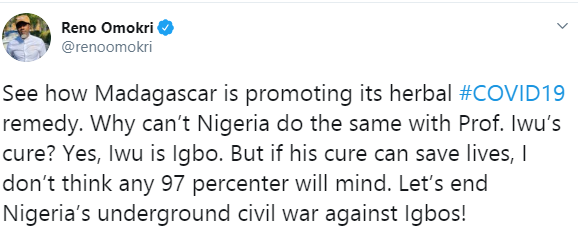 Partner with Expressiveinfo, let's help your business/brand reach a wider audience.
Advertise with us today!
Call 08039323645, 08071610134