Alaafin of Oyo, Oba Lamidi Adeyemi sadly passed away on Friday night, April 22, 2022.
He was aged 83 and reigned the longest as Alaafin. He was reported to have been on the throne for 52 years.
Late Alaafin of Oyo also holds the reputation for being one of the Nigerian monarchs with the most wives.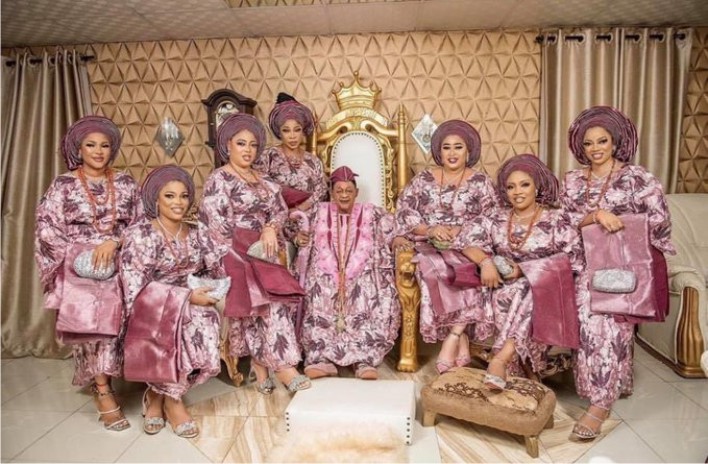 Before his death in April 2022 at the age of 83, Alaafin of Oyo, Oba Lamidi Adeyemi, married a total number of 13 wives with one of them being an Igbo woman, Olori Chioma Adeyemi married in 2020 as his 13th wife.
In fact, the late Alaafin of Oyo is recognized as being the very first Alaafin to marry an Igbo woman or to take a wife from outside the Yoruba tribe.
List of Alaafin of Oyo's wives
Olori Ayaba Abibat Adeyemi (first wife)
Olori Rahmat Adedayo Adeyemi
Olori Mujidat Adeyemi
Olori Rukayat Adeyemi
Olori Folashade Adeyemi
Olori Badirat Ajoke Adeyemi
Olori Memunat Omowunmi Adeyemi
Olori Omobolanle Adeyemi
Olori Moji Anuoluwapo Adeyemi
Olori Damilola Adeyemi
Olori Chioma Adeyemi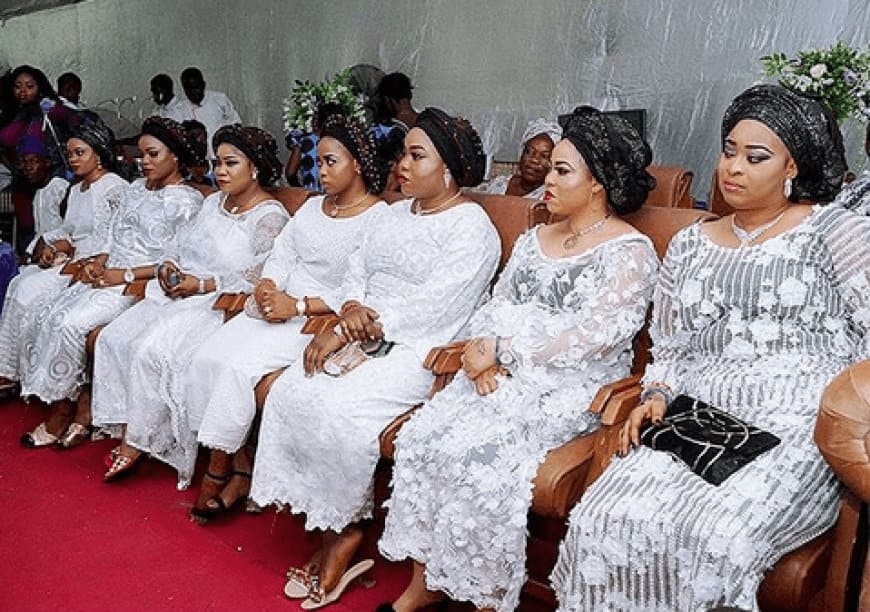 The names and details of the two remaining wives are not disclosed at this time. According to reports, not all of Alaafin's wives attend events with him. Some of the wives are also reported to not be living in the palace with the others.
In a 2018 interview with The PUNCH, the late Alaafin, revealed how he married all his Oloris.
He said, "I did not propose to any of my wives. They desired to be with me because I sent them to school. After their university education, I told them to leave but they refused and insisted on staying with me here in the palace as my wives. The least educated of them has a Higher National Diploma and is now in the university.
"I don't begrudge or offend women. Marriage is an institution that must be defended. Each partner has a role to play in the marriage. My wives have their individual quarters. God has given me some type of ability and grace to keep a woman, especially beautiful women. I don't disclose my conversations or activities with one wife to another. I maintain a strict code of confidentiality.
"I have learnt that I must positively make an impact on people and make a great first impression. Of course, they (wives) sometimes have disagreements and conflicts of opinion but I have been 'graced' by God to know how to ensure that the conflicts don't escalate."
On his first wife and how he fell in love, the late monarch said, "I have never approached a lady; they come to me. My first wife was a friend to my younger sister of blessed memory. My sister introduced her to me and though she wasn't educated, she gave me the first lawyer in our family, my son, Tunde. I truthfully do not know the art of chasing women."
Alaafin of Oyo's children
The exact number of Alaafin of Oyo's children is unknown at this time but the closest reports cite all his children are over 20. Most of his wives had at least one child with some having more than one and a few others who did not conceive at all. According to the Yoruba tradition, all of Alaafin's children are princes or princesses.
Some of Alaafin of Oyo's more prominent children include Babatunde Israel Adeyemi, Princess Folashade Adeyemi and Prince Akeem Adeyemi. Some others are in their teens while others are quite young.
Babatunde Israel Adeyemi, one of Alaafin's oldest children, is a lawyer and pastor and is reported to be in his 50s. He is also married with kids.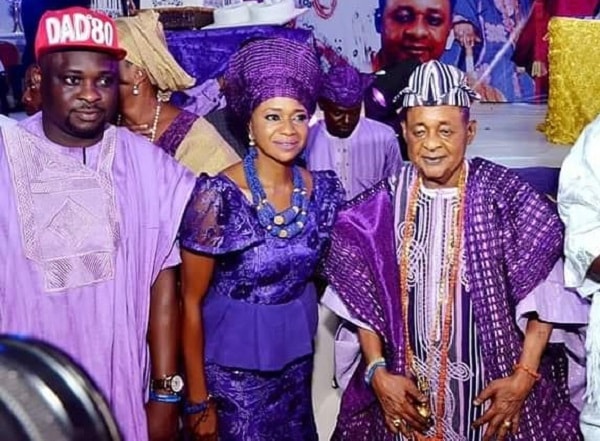 Alaafin of Oyo's older daughter, Princess Folashade Adeyemi, is a businesswoman and "women leader" in Oyo State. She is the CEO of Arewa House of Culture.
Another popularly known daughter of Alaafin of Oyo is Princess Taibat Adeyemi who is reported to be in her 40s or 50s.