A Nigerian lady had sought the advice of an online relationship counselor, Cynthia Valerian Raphaels whether to cancel her wedding which was supposed to take place on Saturday or to go through with it.
Read what she wrote to Cynthia below.
Madam Cynthia, your daughter needs your help. I am in a fix and I can't tell my sister because they might tell me to go ahead because of how they carry Christianity on their heads. My wedding is this Saturday. There is this club we normally go to, and it's a stripper club. Me and my husband. There is this lady I have always had my suspicion, she is a stripper , so I decided to monitor them. I don't want to write how I found out because he might be following you. If I ever do that, a lot of people will feel disappointed and hurt because I don't want them to stop trusting me.
We did our bride price and traditional marriage this January. I got a video where he was on the act in our bedroom and was even telling the lady that he will still fuck her after marriage that he can't let her go. I went for my wedding shopping and he brought her inside the house, she spent one week with him and left two days to me coming home.
Please, I need to know what to do because my brothers and sisters are already back home from abroad because of my wedding. My parents will be back tomorrow. It's one week I came back home and I have been battling with myself on what to do, even on Friday he told me let's go clubbing, I told him I am not in the mood and he went there alone.
I need a fast solution so I won't end up in mess. The money they all spent and the shopping I went to do in Dubai for my wedding and the rest. We have spent a lot and I am 2 months pregnant. I feel like taking this baby off. Please hide my id. What should I do or what should I tell my people if I call everything off. His mother is a politician. I am 29 years, he's 34 years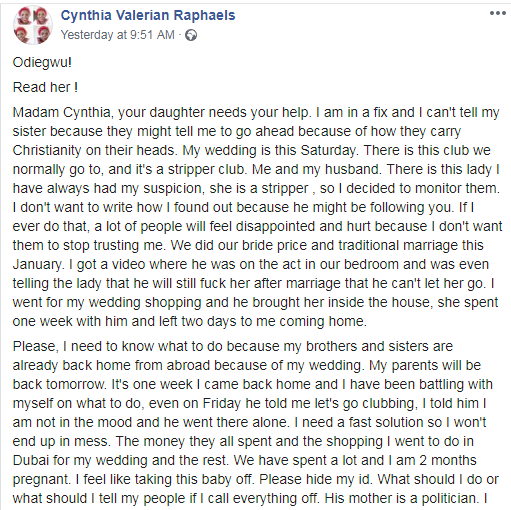 After sharing the post on Facebook, Cynthia and other commenters gave her the advice below.
Cynthia wrote:
Broken engagement is better than this horror you want to get into. If they can't respect you in your absence, my dear there is no need sweating to keep such a nuisance. This is gross. In your own bedroom? have the world gone this bad? This is an idiot who won't stop doing what he is doing, please calling the whole charade off, is the best. I won't ever forgive my husband, for bringing in a woman in my own bedroom. Never. Please no matter how much is spent, you can't buy peace of mind with those money spent. 
When peace of mind erodes a human being, you are good as dead. There is nothing wrong in training your child without his father. It's better he remains out so you can understand your life. Don't hurt your baby, be strong and call your siblings for a meeting, if possible tell them about the video, if they can stand porn, play it for them and let them see. These are your family and will want the best for you . Which of your sister, that carries Christianity on her head will welcome such into her siblings life, none please. He is not worth your decency, your love, money, loyalty and most important your care. Somebody who can't respect his boundaries shouldn't be welcomed to eat with you at all. He won't stop either, he is a clubber and he won't stop watching naked women because that is his hobby. A club addict can't stop unless he wants to. Gross!!!
See two other comments below.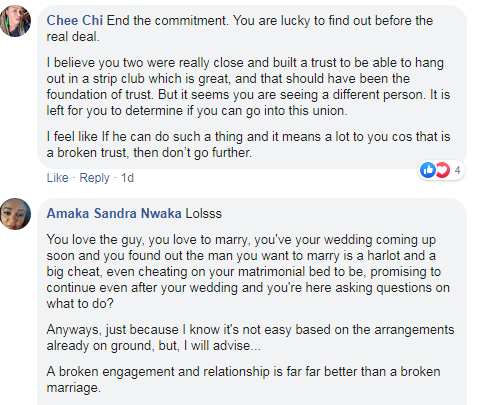 Well, after much, the lady's eldest brother could not bear to allow his sister go into such marriage and called off the wedding. Cynthia also shared it saying: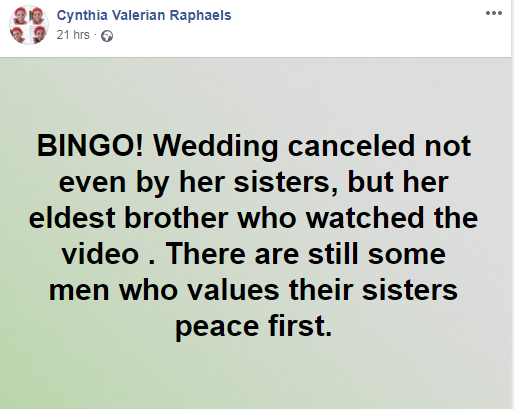 Tell us what you think of all these below. Was it a good decision to call off the wedding?