Sadiya Umar Farouq, minister of humanitarian affairs, disaster management has told her followers and Nigerians to disregard any information emanating from a fake twitter account opened with her name.
It was from the fake Twitter account that the first message which denied any speculations of a planned wedding between the minister and President Buhari came from. The tweet from the account read:
"There have been several speculations in media regarding Marriage between Myself and Baba Buhari. I will like to clarify this that me and Baba Buhari have been old time friends and Her Excellency Aisha is my good friend and a sister. I will like to maintain this good relationship," one of the tweets read.
Thereafter, the minister took to her authentic Twitter account on Friday to warn members of the public on the activities of the fake account.
She wrote: "It has come to my attention that a fake Twitter account @Sadiya_farouq_ has been created in my name. I wish to inform my followers and well meaning Nigerians to disregard the handle and any information posted on it. My official Twitter handle remains @Sadiya_farouq. Thank you."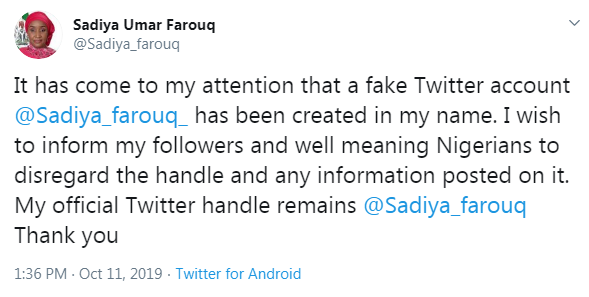 However, as at the time of filing this report, the fake account, @Sadiya_farouq_ has been suspended as you can see below.