Golf Legend, Tiger Woods who was hospitalized after being involved in a single-car accident in Los Angeles on Tuesday morning has now woken up after his surgery.
His agent, Mark Steinberg, has said after that accident that Woods suffered "multiple" leg injuries.
"He is currently in surgery and we thank you for your privacy and support."
In a follow up, an official statement has been released from Woods' official account, providing an update on Woods' medical status after his surgery at Harbor-UCLA Medical Center. 
"We thank everyone for the overwhelming support and messages during this tough time," the statement read. "As previously communicated, Tiger was involved in a single-car accident earlier this morning in California. He has undergone a long surgical procedure on his lower right leg and ankle after being brought to the hospital."
"Mr. Woods suffered significant orthopedic injuries to his right lower extremity that were treated during emergency surgery by Orthopaedic trauma specialists at Harbor-UCLA Medical Center, a level 1 trauma center. Comminuted open fractures affecting both the upper and lower portions of the tibia and fibula bones were stabilized by inserting a rod into the tibia. Additional injuries to the bones of the foot and ankle were stabilized with a combination of screws and pins. Trauma to the muscle and soft-tissue of the leg required surgical release of the covering of the muscle to relieve pressure due to swelling." – Anish Majajan, MD, Chief Medical Officer & Interim CEO at Harbor-UCLA Medical Center.
"He is currently awake, responsive, and recovering in his hospital room," the statement read.
"Thank you to the wonderful doctors and hospital staff at Harbor UCLA Medical Center, the Los Angeles County Sheriff's Department, and the Fire Department. Your support and assistance has been outstanding.
"There are no further updates at this time and we continue to thank you for your well-wishes and privacy for him and his family."
Woods, 45, was in California for a two-day content shoot with Golf Digest/GOLFTV after serving as host for the PGA Tour's Genesis Invitational over the weekend.
Pictures surfaced on social media of Woods smiling with Dwayne Wade and David Spade at Rolling Hills Country Club on Monday, but with his movement still restricted, he did not hit balls or play any holes.
The shoot involved Woods giving on-course lessons to a number of celebrities, but he mostly provided instruction and hit a few putts. He was in good spirits on Monday but did not arrive to the course for the second day of shooting.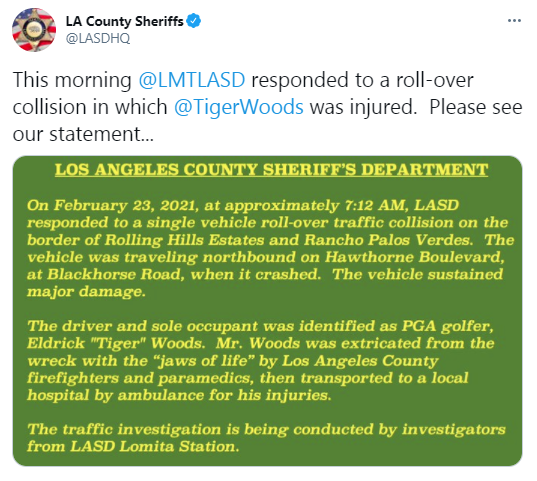 On Sunday, Woods told CBS' Jim Nantz that he was awaiting the results of an upcoming MRI before he could ramp up practicing and training for a return to competition.
Woods last competed alongside his son at the PNC Championship, which finished on Dec. 20 in Orlando. He then underwent a microdiscectomy procedure to remove a pressurized disc fragment that was pinching a nerve. It was his fifth back surgery overall and the first since his spinal fusion in April 2017.