A Nigerian evangelist, Victor Edet a.k.a Evangelist Victor, has stirred up controversy after calling out gospel singer, Mercy Chinwo on Facebook for looking 'seductive'.
Victor Edet took to his Facebook page to share his views on what he felt a true Christian and 'gospel singer' should look like.
Directly referring to Mercy Chinwo, as he shared some of her pictures, the evangelist said, one can't be singing gospel songs and be seductive at the same time.
He wrote on Facebook, "YOU can't be singing gospel songs and be seductive at the same time. A true Christian should look DECENT and not SEDUCTIVE, Mercy Chinwo Beware!!!"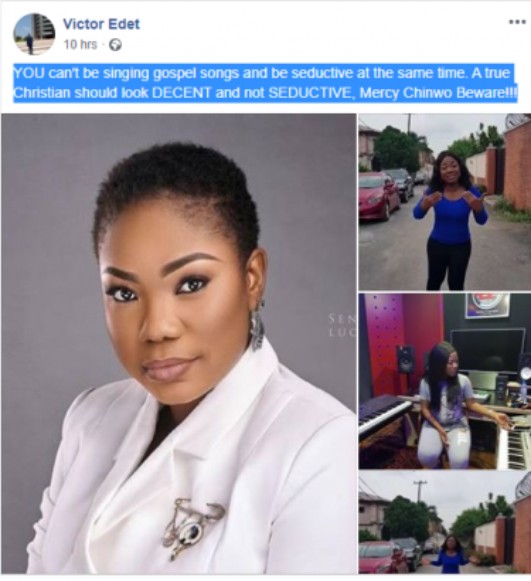 Read some of the reactions to his post below.
Nnamdi Nzewi: By there fruits ,we shall no them…their songs may look good ,is God appreciated…and there is modesty in there outward appearance
Pamella Oguadinma: What is seductive about har dressing oga? If the trouser she is wearing is the problem, just state it. She is fully covered na. Nawah oh.
Smith Michael: Do she seduce you? And do you know its also wrong to post her pix with this caption?is that what your bible taught you?is she explain any part of her body there?what do you understand by seduction
Smith Michael: Brother haven't u read!rebuke not an elder in public?how many times have you posted your fathers picture to correct him of a mistake
Abenna Ampah Boateng: Condemnation agent, nobody is ever okay in your thy eyes,you that don't sing do you dress well your sisters nkor?
Partner with Expressiveinfo, let's help your business/brand reach a wider audience.
Advertise with us today!
Call 08039323645, 08071610134