More stories have already started springing up after Cynthia Morgan's revelation as her former manager has come out to slam her for being responsible for her own downfall and now trying to pin it others for sympathy.
During an Instalive session, Cynthia Morgan revealed how Jude Okoye, took over her VEVO, Instagram accounts and made her stop using the stage name "Cynthia Morgan," after her contract ended disappointedly.
Joy Tongo, reacting to the singers revelation said:
"Cynthia Morgan this is 2020, we haven't forgotten all your dirt ! Internet does not lie , emails does not lie and much more . I am coming for you ! All the dirt you did to I and Jude and others you must pay this time around . Is over 4 years and you are still talking trash!
"Record Label /Management are not a charity organization . As Cynthia Morgan's formal manager from 2011-2016 who have never spoken out , I can boldly say No one killed your career . Your Pride and your nasty attitude was your downfall . You used your own hands and mouth to kill your once bubbling career. Since you can't own up to your downfall of your music career and you are now trying to get people to have sympathy for you after 4 years , let me remind you shortly ."

Joy Tongo also shared a DM she claimed was from someone she didn't know but who knows Cynthia Morgan's story from the begining.
See the DM below.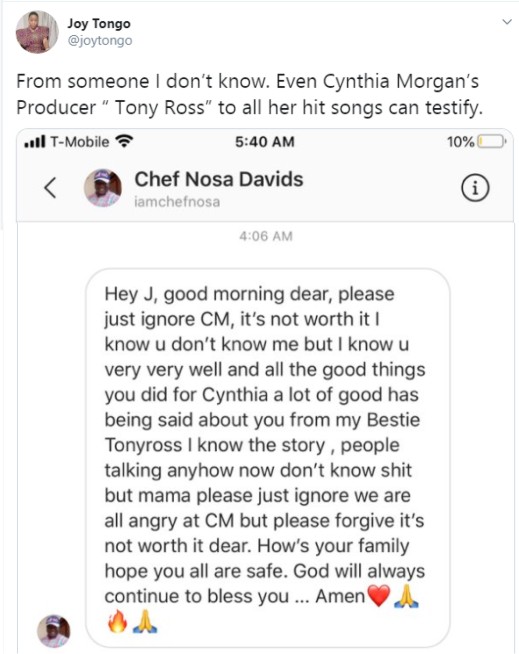 Partner with Expressiveinfo, let's help your business/brand reach a wider audience.
Advertise with us today!
Call 08039323645, 08071610134