Popular activist, Aisha Yesufu has expressed how proud she feels that Nigerian youths have now woken up to demand end to police brutality.
The activist who has been at the forefront of protests against police brutality and other forms of maladministration and corruption in the country took to Twitter on Friday morning to praise the Nigerian youths for saying "Enough is Enough'.
She wrote:
"Do you know that feeling of pride when your children are doing so well and even better than you ever did? That's how I am feeling right now! I am loving how the youth are saying #EnoughIsEnough and taking action #EndSars#ReformPoliceNG#EndSarsNow"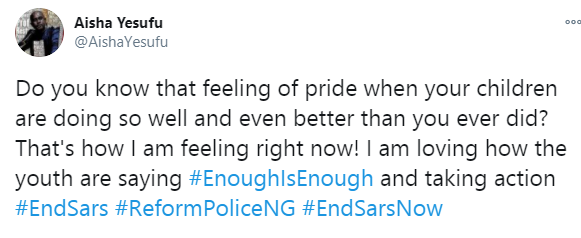 See another post from her below.