Tears flowed freely, on Thurday, as Kolade Johnson, who was murdered by a trigger-happy SARS operative while watching a football match in Lagos, was laid to rest.
The father-of-one was buried earlier today, at the Atan cemetery in Yaba, Lagos.
Kolade was the only son of his aged parents before his life ended by a trigger happy police officer. See photos from the burial below.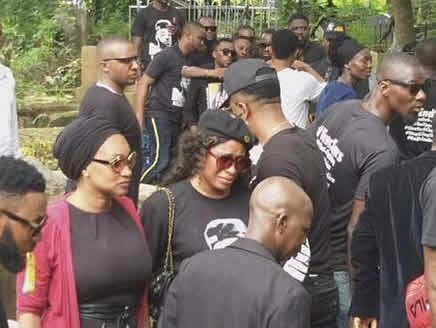 Meanwhile, the ex police inspector, Ogunyemi Olalekan, who was sacked for killing him, is currently facing a murder charge.
The suspected killers Insp Ogunyemi Olalekan and Sgt Godwin Orji attached to Anti Cultism Squad were paraded earlier before newsmen.
While speaking to the press, Olalekan said that Kolade was in a gathering of suspected cultists when the incident happened. We had a distress call that we should move to Mangoro. On getting there, we saw some group of guys smoking Indian hemp and thought they were cultists. We effected an arrest there. Suddenly, they mobbed us. While trying to run away from them, I fired up and I didn't know how it got to meet the boy in question that was shot dead. I only fired one shot up" he said.