Two days ago, Singer Timi Dakolo called out the pastor of Commonwealth Zion Assembly (COZA) for many allegations against the pastor over sexual involvement with his church members.
Timi Dakolo had written as seen below.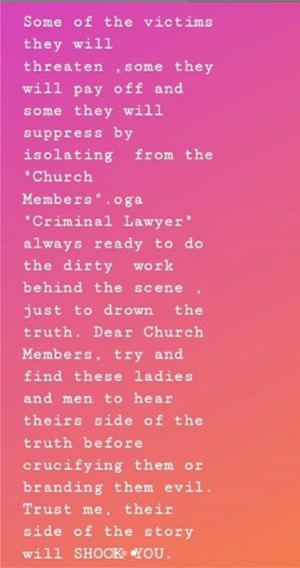 He ended by saying: "COMMONWEALTH KO ZION NI..CHURCH IS SUPPOSE TO FIX BROKEN PEOPLE AND NOT CRUSH PEOPLE WHO SHOW UP IN CHURCH NEEDING GOD."
So, It appears that the singer opened a can of worms with his posts about a pastor who sexually exploits his members. Now, more Nigerian women are going public with their stories.
Below is one of such stories. A lady narrates her experience with one pastor who said she was not spiritually strong and so she needed to have sex with him in order to be spiritually fortified.
Read her story below.