Argentine footballer and superstar, Lionel Messi has taken a swipe at his former club, Paris St-Germain after revealing that he never wanted to leave Barcelona following his bitter split with the French club this summer.
The seven-time Ballon d'Or winner made a mega-money switch to Miami last month to end his turbulent stint in PSG, after criticism from supporters for not living up to his legendary standards.
In the final weeks of his time in the French capital, he was also briefly suspended by PSG for failing to show up to practice while on an unauthorized trip to Saudi Arabia with his family.
Messi later left the club to join Inter Miami, where he has hit the ground running by scoring nine goals in his first six matches.
At his first press conference as an Inter player, Messi took a swipe at PSG by claiming he never wanted to join them from Barcelona in the first place, having been forced out of his boyhood club in 2021 due to its financial difficulties.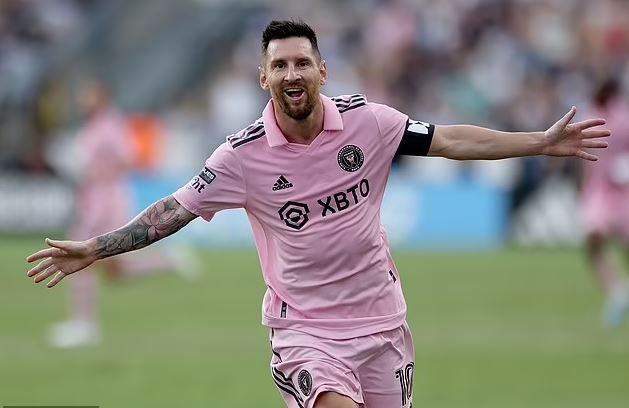 When asked how happy he is in Miami, Messi told reporters: 'I am excited there will be another game to continue that happiness. I am very happy now, I said that from the very beginning.
'I chose coming here to this city, it was a decision that we made with time. We didn't make this decision overnight, and that's why everything is much easier. We are in the place we want to be and it was our decision, that's why everything is much easier.
'I didn't want to leave [Barcelona] for PSG and that was [an] overnight [decision]. I wanted to stay in Barcelona, but I had to get used to a different place, a different place from the one I had lived in terms of the city.
'It was difficult in Paris, but it is quite the opposite what is going on with me here and now.'
Just one month into his time in Miami, Messi is set to deliver Inter's first title in this weekend's Leagues Cup final against Nashville.
'It would be incredible for me, for the fans, for the club itself,' Messi said on the prospect of winning the Leagues Cup.
'The club is trying to grow, they are investing a lot in growing and trying to put together major changes to build a team that is a reference and wins titles. It would be impressive, awesome.
'It's beautiful how the Inter people come to the matches to support us. The stadium is always full when we play at home.
'It's a very young club, it was founded just three years ago, and getting the first title would be beautiful for everyone.'